Building permits fall to all-time low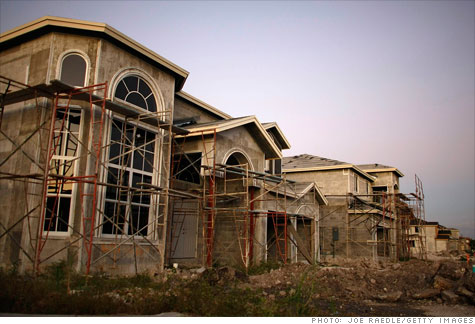 NEW YORK (CNNMoney) -- The housing market just can't seem to catch a break.
The number of permits issued in February for future housing construction fell to a new all-time low, according to a government report released Wednesday.
Building permits fell to an annual rate of 517,000 permits last month, down 8.2% from a revised 563,000 in January, the Commerce Department said.
That was the lowest level seen since the government started tracking the figures in 1959, and much worse than economists had expected.
Uncertainty about the job market and rising gas and food prices are still keeping potential homebuyers on the sidelines, even as mortgage rates and home prices are at attractive lows.
"It's consumer nervousness," said David Crowe, chief economist with the National Association of Home Builders. "It's a fragile recovery to begin with, and then you throw in high energy costs, new uncertainties about Congress, and it's just enough to spill over the glass again."
Builders rushed to secure permits in December and start building in January to get ahead of new zoning laws, but that effect should have been minimal on February's numbers, Crowe said.
Instead, both permits and new construction remain more than 20% below their prior-year levels.
"Bottom line is that here in the 20th month of the economic recovery, the sector that normally leads both recessions and expansions has yet to gain any traction," David Resler, chief economist for Nomura Securities, said in a research note.
New home construction also dropped more than expected in February, falling at its fastest rate since March 1984.
Housing starts, the number of new homes being built, fell 22.5% to an annual rate of 479,000 in February, down from a revised 618,000 in January, the Commerce Department said.
Economists had forecast the figure to fall no further than 545,000 in February.
Single-family home construction fell 11.8% during the month, but a huge decline in apartment building was an even bigger drag on the overall number.
Construction of buildings with five units or more -- which tends to be volatile month-to-month -- fell 47% in February, after surging 80% the month before.