Japan stocks jump on G-7 pledge to intervene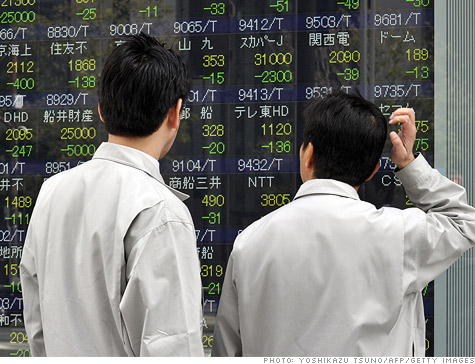 NEW YORK (CNNMoney) -- Stocks in disaster-stricken Japan capped a turbulent week with solid gains Friday after finance ministers from the Group of Seven nations announced a coordinated intervention in the currency market to prevent the yen from rising further.
The Nikkei 225 index, the most prominent measure of stocks traded in Tokyo, climbed 244 points, or 2.7%. For the week, the index was down 10.2%, but has rebounded 7% since suffering the third-worst drubbing in its history on Tuesday.
Officials of the United States, the United Kingdom, Canada and the European Central Bank said in a statement that they will join with Japan in "concerted intervention in exchange markets."
"As we have long stated, excess volatility and disorderly movements in exchange rates have adverse implications for economic and financial stability," the ministers said in the statement. "We will monitor exchange markets closely and will cooperate as appropriate."
The yen, considered a safe haven by global investors, has been driven higher in recent days by uncertainty and speculation that more cash will flow into Japan as it rebuilds.
But a strong yen is a serious threat to Japan's export-driven economy, since it undermines profits for Japanese companies that do business overseas.
The Japanese stock market has been roiled by uncertainty this week, with investors struggling to comprehend the implications of last week's devastating earthquake and tsunami, and the resulting crisis at a crippled nuclear power plant.
The Nikkei fell 1.4% in Thursday's session, giving back some of Wednesday's gains. On Tuesday, the index plunged 10.6%, marking the third worst one-day plunge in the Nikkei's history.
After a massive earthquake and tsunami devastated the northern part of the country, workers at Japan's Fukushima Daiichi nuclear power plant have been struggling to cool damaged reactors.
The Tokyo Electric Power Company said early Friday that water dumped by helicopters, fire trucks and police water cannons was "somewhat effective" in cooling the crippled reactors, housed in a facility located about 138 miles north of Tokyo. (CNN.com Japan coverage)
In the currency market, the yen stabilized against the U.S. dollar Thursday after surging to an all-time high on Wednesday. The retreat came amid speculation that the Bank of Japan will soon intervene in the market to curb the yen's rise by selling the currency.
For an economy facing a tough road ahead, a weaker currency would be a good thing. A stronger home currency would make Japanese goods more expensive in overseas markets, to the detriment of Japan's manufacturing industry.
Under normal circumstances, intervention would be frowned on by other central bankers.
Other Asian markets joined Japan in ending higher Friday. The Hang Seng was up 0.1%, while the Shanghai Composite advanced 0.3%. European stocks opened higher.
In the United States, stocks closed broadly higher Thursday, after two days of heavy losses on Wall Street, as investors cheered an upbeat outlook from economic bellwether FedEx (FDX, Fortune 500). U.S. futures pointed to a higher open Friday.
The Tokyo Stock Exchange resumes trading Tuesday, after taking Monday off for the vernal equinox holiday.
-- CNNMoney's Charles Riley contributed to this report.