Google gives '20%' to Japan crisis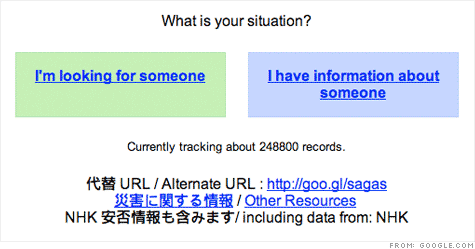 NEW YORK (CNNMoney) -- Google famously gives its engineers "20% time," allowing them one day a week to work on side projects that interest them. That arrangement launched one of the most critical online tools in the Japanese relief effort: Google's Person Finder, which allows people to search for and post information about missing loved ones.
It never would have happened if a handful of Google developers hadn't lobbied the company's top brass to get involved in past crises.
In January 2010, as the devastating Haiti earthquake was unfolding, Google engineer Prem Ramaswami asked products executive Marissa Mayer what the company's response would be.
"It looks like you just raised your hand," Mayer responded.
Ramaswami gathered a handful of other similarly minded engineers, who decided to work around the clock to create the first Person Finder page. Just 12 hours after the quake hit, Google launched its landing page.
Google wasn't the first to tackle the problem of finding missing people. More than a dozen other sites had similar tools -- but none of them communicated with one another. If someone was looking for a loved one, they had to log on to multiple sites, each one its own silo.
To untangle the data spaghetti, Google engineers created the "Person Finder interchange format," a common language for a hub that consolidated all the databases. The small, global team of engineers worked nonstop for three days.
"It was insane watching the product threads," Ramaswami says. "People would work for 12 hours straight, and as they were falling asleep, they'd hand it off to someone else."
After the 72-hour hackathon, the consolidated database went live, and sites like CNN.com began to link to it.
The tool quickly caught on, but Ramaswami and his team knew they would have to speed up the process for future disasters. Three weeks after the earthquake, he led a Google group into Haiti for crisis response education.
After five days on the ground, he and his team returned and met with Google (GOOG, Fortune 500) founders Larry Page and Sergey Brin to pitch a permanent, dedicated team to disaster relief efforts.
Page and Brin were happy to oblige. The Google Crisis Response Team is now a global unit with a handful of engineers. They are based mostly in Mountain View, Calif., and New York, but others are stationed around the world to ensure 24/7 coverage.
"One of the beautiful things about Google is that this organization is very supportive of this kind of activity," Ramaswami says. "I work at a very special place. No manager has ever told me that I had a day job."
The team has made quick improvements to its response: Person Finder was created and launched 72 hours after the Haiti earthquake, within one day of the February 2010 Chile earthquake, and within three hours of the February 2011 New Zealand earthquake.
Japan's Person Finder tool was available one hour after the quake, the team's fastest response to date. It now has nearly 250,000 records -- more records than all of the previous Person Finder sites combined.
Google's Crisis Response team launched a new Picasa-based tool for the Japanese crisis. It allows people in emergency shelters to share photos, taken with their mobile phones, of the list of names of those housed at that shelter. The team is in the process of manually adding the names from those photos to Person Finder.
Google has also parked a link on its homepage to a Crisis Response website that includes Person Finder, maps, news updates and a list of relief organizations collecting donations.
Despite their recent successes, Ramaswami says the team is still learning and adapting. For instance, the Person Finder tool launched for the September 2010 floods in Pakistan was a failure: Those most affected by the flood had no Internet access.
For guidance, Google's team is looking to non-government organizations like the Red Cross that have years of crisis response experience.
"We're very new to this, but as engineers, we think we can look at it from a completely different angle," Ramaswami says. "Our end goal is to get information disseminated in a way that can help people. I think Google's mission fits very nicely with that."