Toyota tells U.S. plants 'prepare to shut down'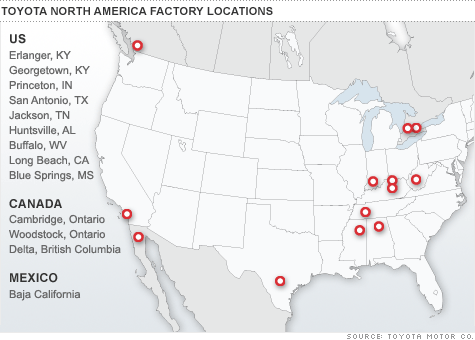 NEW YORK (CNNMoney) -- Toyota's U.S. manufacturing arm is preparing for a possible shutdown because of parts shortages from Japan, a Toyota spokesman said.
In Japan, meanwhile, Toyota and Nissan have announced some hybrid and electric car production has resumed, while Honda said it is extending its factory shutdown there.

Word has gone out to all 13 of Toyota's factories in the United States, Canada and Mexico. This does not mean that the plants will stop working, Toyota spokesman Mike Goss said, but that they should be ready in case the need arises.
"We expect some kind of interruptions," he said.
While Toyota's car factories in Japan have stopped working since the March 11 earthquake in Japan, the automaker was able to resume production of some auto parts on March 17.
Toyota employs 25,000 manufacturing and R&D workers in North America.
Toyota has a long-standing policy of continuing to pay its employees while finding other work for them -- either within Toyota or even in the communities where they are located doing volunteer work -- during production shutdowns.
But Toyota's plans signal that this parts issue could be just the beginning of an industry-wide problem.
"They did resume parts production for overseas and for replacement parts," Goss said, "but that was just the suppliers that were capable of doing it."
Toyota is still in the process of assessing which suppliers are capable of full operation at this time, Goss said.
"We're not talking about just a few companies," he said.
Even suppliers based in North America may not be able to provide components for cars because they, in turn, rely on parts suppliers in Japan with crippled factories.
"All automakers are just now figuring out who supplies every little part." Said Edmunds.com senior analyst Michelle Krebs. "The shortage of any one could shut down an assembly line. Toyota isn't the only one vulnerable; virtually all major automakers have some risks."
Spokespeople for Nissan, Honda and Ford all said those automakers are making no plans to shut down their plants at this time.
Nissan announced Thursday that it expects to maintain normal production at its U.S. factories until at least April 1. The automaker is also considering exporting V6 engines from one of its Tennessee factories to Japan to replace the output of a damaged engine plant there.
U.S. automaker General Motors has already had to stop production of a truck plant in Shreveport, La. and a related engine plant in New York State due to shortages of parts from Japan.
In Japan, some factories restart
On Thursday, Toyota announced that it would also resume production of the Toyota Prius and two hybrid Lexus models starting next week.
Nissan announced it was restarting production of its Leaf plug-in electric car Thursday, as well.
At the same time, however, Honda announced it was extending a production shutdown at its Japanese factories. Honda had earlier announced a production shutdown at its two Japanese final assembly plants -- factories at which finished cars are made -- through March 27. That has now been extended through April 3.