Porsche 918 hybrid: Order now for $845,000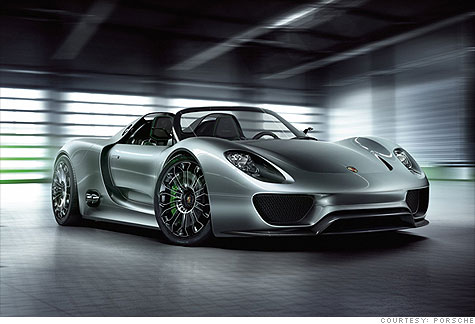 NEW YORK (CNNMoney) -- Porsche is now taking orders for the German carmaker's first publicly available hybrid sports car, the 918 Spyder.
Unveiled as a concept car one year ago at the Geneva Motor Show, the 918 Spyder is a plug-in hybrid car powered by a 500-horsepower V8 gasoline engine and two electric motors -- one each in the front and rear axles -- that will produce at least 218 horsepower more, Porsche promises.
The car's top speed will be 199 miles per hour, Porsche claims, and it will be capable of zero-to-60 acceleration in just 3.1 seconds. The 918 Spyder will also be able to drive under electric power at speeds up to 94 miles per hour, at least for "limited distances."
While official fuel economy figures are not yet available, Porsche anticipates the 918 Spyder will get about 78 miles per gallon.
A two-seat convertible, the 918 Spyder will have removable roof panels that can be stored in the car's front-end luggage compartment.
Only 918 of the cars will be produced at a base price of $845,000 each. While Porsche dealers are taking orders now, production won't start until September, 2013.
There will also be a less-expensive, gas-only car designed to look like the 918 Spyder, going into production later this year.
But it will only be made available to customers who have already ordered the 918 Spyder, in effect, to tide them over during the 918's long lead time.
That car, dubbed the 911 Turbo S Edition 918 Spyder, will have styling cues taken from the 918 Spyder hybrid, including carbon fiber pieces inside and out and "acid green" accents in various places such as the brake calipers. It will cost a relatively paltry $160,000 for the hard-top version and $172,000 for the convertible.
Porsche currently has two other hybrid models, the Cayenne Hybrid SUV, currently on sale, and the Panamera Hybrid four-door hatchback, entering production soon. Porsche also has a hybrid race car competing in LeMans endurance races.