Japan earthquake could cost $309 billion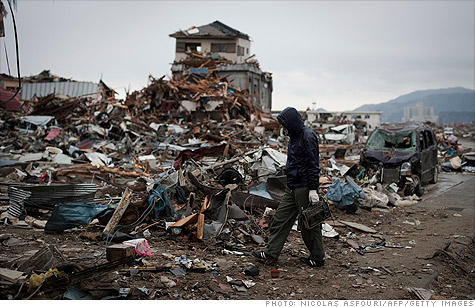 NEW YORK (CNNMoney) -- Japan's devastating earthquake and tsunami could cost up to $309 billion, making it the most costly disaster in the country since the end of World War II, the Japanese government said Wednesday.
The destruction of homes, businesses and infrastructure could cost between ¥16 trillion and ¥25 trillion, equal to between $185 billion and $309 billion, Japan's Cabinet Office announced Wednesday, according to reports by Kyodo News in Tokyo.
But those estimates did not include the effect of the nuclear crisis at the Fukushima power plant and subsequent power outages.
Fears about nuclear radiation escalated Wednesday, as black smoke rose from the third reactor at the Fukushima plant and Tokyo's government said it had detected radioactive material in tap water.
''The most troublesome thing is harmful rumors and the psychological effect (on consumers) as a result of radiation concerns," economic and fiscal policy minister Kaoru Yosano told Kyodo News.
Yosano also said the total effect on the Japanese economy could be offset partially by a boost in activity from reconstruction efforts.
The death toll from the March 11 earthquake and ensuing tsunami is up to 9,408, with another 14,716 people confirmed missing, Japan's National Police Agency said Wednesday.
Major Japanese manufacturers, including Toyota Motor, Honda Motor, Nissan and Sony all shut down factories following the quake. While they have since resumed some operations, much of their business is still offline.