Investing in Japan: Record $956 million flows in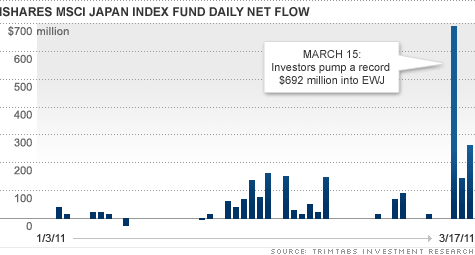 NEW YORK (CNNMoney) -- Investors plowed a record amount of cash into funds that invest in Japanese equities this week, taking full advantage of a sharp drop in the Nikkei following the disaster in Japan.
A whopping $956 million flowed into U.S.-based Japanese equity mutual funds and exchange traded funds in the week ended March 16, according to data from Thomson Reuters Lipper service.
A hefty chunk of that fresh cash went into Japanese stock ETFs, which accounted for nearly 98%, or $936 million, of the total amount. That's the best weekly inflow on record, and almost twice the prior record set in November 2005, said Jeff Tjornrhoj, head of Lipper Americas Research.
The iShares MSCI Japan Index Fund (EWJ), the biggest Japanese tracking ETF, enjoyed the biggest boost.
On Tuesday alone, investors injected $692 million into the fund, whose top holdings include the Japanese-traded shares of Toyota, Honda, Mitsubishi, Canon, Sony and Tokyo Electric Power Co. That was the largest single-day inflow on record for the ETF, according to TrimTabs Investment Research.
It was also the same day the Nikkei 225 (NKY) index, the most prominent measure of stocks traded in Tokyo, dropped more than 10%.
"A lot of investors who have been watching the Japanese market with the intent to invest are viewing this dip in the market as the best time to get in since the financial crisis in 2008," said Minyi Chen, Asia equity analyst at TrimTabs.
That's exactly what the manager of the YieldQuest Core Equity Fund (YQCEX) did. YieldQuest chief investment strategist Jay Chitnis boosted the fund's allocation in the iShares MSCI Japan Index Fund to 10% from 6%, in the days following the earthquake.
"These sorts of events present a terrific buying opportunity in hindsight," Chitnis said. And since the Group of Seven nations pledged to intervene to stabilize the yen late Thursday, Chitnis expects Japanese stocks to deliver an even better performance than before.
"Japan is a huge export economy, and they've had to contend with a strong yen," he said. "If the yen weakens, that will make Japanese goods even more attractive in world markets, and that will be tremendous for Japanese companies' earnings."
Plus, experts are optimistic that the earthquake's impact will have a relatively mild long-term effect on the Japanese and global economies.
"Once the nuclear power plants situation is under control, the market will recover quickly, said TrimTabs' Chen. After bottoming on Tuesday, the Nikkei has climbed almost 7%.