Big banks hunger for corporate debt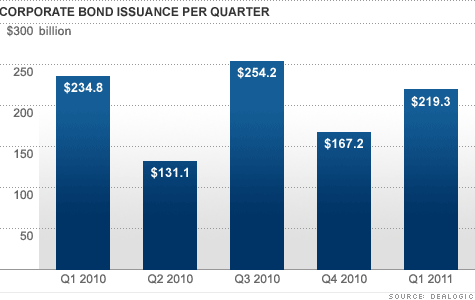 NEW YORK (CNNMoney) -- Looking for a loan? If you're a company with a decent investment grade rating, you're in luck.
Earlier this week, "A"-rated AT&T (T, Fortune 500) lined up near-record amounts of debt for its $39 billion dollar deal with Deutsche Telekom's T-Mobile USA.
JPMorgan Chase (JPM, Fortune 500) lent a record $20 billion in short-term financing to AT&T. In addition to being a record amount for the bank, it's also among the largest corporate loans ever issued, according to Thomson Reuters.
That's a good sign for the corporate debt market on several fronts. For one, it shows that banks are willing to lend money to companies that have a less-than-perfect "AAA" rating.
Just two years ago, a company like AT&T might have had a harder time securing funding. The company is sitting on only $1.3 billion in cash, leaving it no other choice than to enter the debt market for the T-Mobile deal.
In the months after Lehman Brothers collapsed, raising money in the debt markets was even more dire. Big blue-chip firms such as Caterpillar (CAT, Fortune 500) and Hewlett-Packard (HPQ, Fortune 500) struggled to raise even small amounts of debt-funded capital.
But since the end of 2008, the number of corporate bonds with a Standard & Poor's credit rating of "A" have jumped 25.7%, according to financial product tracking firm MarkIt. And BBB-rated bonds surged 43% in the same period of time.
"Demand for corporate bonds has been very strong, from high grade to high yield," said Rick Rieder, chief investment officer for fundamental fixed income at the institutional investment firm BlackRock (BLK, Fortune 500).
Demand for corporate debt has been partly driven by demand for yield, but also by low corporate issuance, Rieder said. Since Lehman's bankruptcy in 2008, companies have bulked up on cash and kept corporate financing to a minimum.
Before the financial crisis, companies raised an average of $204 billion quarterly, according to DeaLogic.
Compare that with the fourth quarter of 2010, when investment-grade companies raised $167.2 billion. That's also down from $191.4 billion in the same period in 2009.
With companies interested in raising capital through debt and banks having no problem lending money to high-quality companies, Reider said he believes there could be an uptick in debt-financed M&A activity this year.
Lower credit quality companies are seeing better lending terms, but getting credit remains difficult, particularly among privately-held companies who have no access to the equity market, said Jeff Jones, a managing director with investment firm Barrier Advisors, which specializes in distressed corporate debt.
"They're getting the short end of the stick right now," Jones said. And they're not the only ones. Consumers are still struggling to secure everything from mortgages to auto loans.