Junk bonds: Still a good bet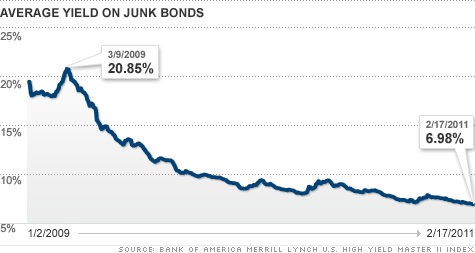 NEW YORK (CNNMoney) -- Junk bonds have had a stellar couple of years, and it's not over yet.
Investors have poured almost $72 billion into the high-yield bond funds since the start of 2009, according to EPFR Global. And that has driven junk bond yields to near record lows.
The average yield of bonds included in the Bank of America Merrill Lynch High Yield Master II Index stood at a whopping 19.5% at the start of 2009. Since then it has dropped to 6.98% -- just a stone's throw from the record low of 6.86% hit in December 2004.
Though that seems to suggest that the high-yield debt market is too expensive, experts say 'not so fast.'
"Yields are low, but you have to take a step back and also look at spreads, which is the premium that high-yield bonds are trading at relative to risk-free Treasuries," said Sabur Moini, portfolio manager of the Payden High Income Fund (PYHRX). "If you do that, you'll see that you're still being compensated well for holding high-yield bonds."
Though the spread between junk bonds and Treasuries is narrower today, at about 444 basis points, than the historical average of 525 basis points, investors still find it appealing.
"The Federal Reserve's policies have created a low interest rate environment, and rates are low in virtually every asset class," said Marc Gross, portfolio manager of the RS High Yield Bond Fund (GUHYX). "Investors should consider high-yield bonds on a relative basis, not on an absolute basis."
For example, the spread between junk bonds and Treasuries was much tighter in June 2007, at 250 basis points, when the average junk bond yield was between 7% and 8%.
In addition to having an attractive risk premium, the high-yield market is also much healthier than it has been in the past.
The junk bond default rate now sits at 3.1%, down from 14.6% in November 2009, according to Moody's Analytics. And it's expected to fall to 1.9% by the end of the year, thanks to stronger corporate balance sheets.
"The high-yield bond market's fundamentals are very healthy right now, and they should be for a couple more years," said Payden & Rygel's Moini, whose portfolio include high-quality credit issued by Chesapeake Energy (CHK, Fortune 500), EchoStar (SATS), Ford Motor (F, Fortune 500) and Cablevision (CVC, Fortune 500).
Moini added that the high-yield bond market is already up more 3% this year, and should return between 7.5% and 8% in 2011. Though that's not as strong as the market's 58.2% return in 2009, 15.1% return in 2010, or what you might gain by investing in stocks, it's enough to make it a good bet.