Auto workers: Keep jobs on U.S. shores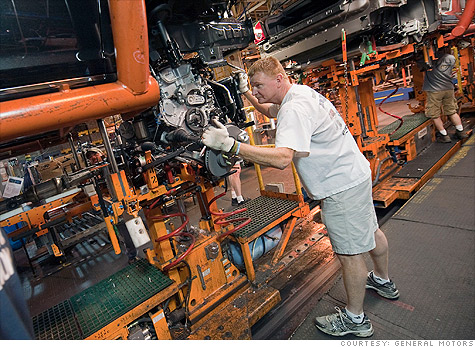 DETROIT (CNNMoney) -- Job security for auto workers used to mean ironclad labor contracts that insured they got paid whether or not they were working.
But today, as the United Auto Workers union prepares to return to the bargaining table with the Big Three after four years of painful concessions and layoffs, the union has its eye on a new kind of security -- keeping jobs on U.S shores.
At the UAW meeting in Detroit this week, the union's top negotiators said what's most important to their members is winning guarantees from the automakers to keep investing in new U.S. plants, in order to ensure job security.
"We've adopted a jobs, jobs, jobs agenda," said General Holiefield, the union's chief negotiator with Chrysler Group.
Negotiators say that union members extending all the way down to rank-and-file workers on the assembly lines are worried about getting product commitments and investments from the automakers.
"When I talk to members, they're most concerned about security," said Jimmy Settles, the union's chief negotiator with Ford Motor (F, Fortune 500), which is widely expected to be the first company the union tries to reach a deal with this fall.
Settles said strong product commitment does much more to protect jobs than contract provisions such as the so-called jobs bank, which used to pay laid-off workers nearly their full salary during the life of a labor contract.
"Maybe that was not the best concept," said Settles. "That concept was to stop outsourcing of work. It was never supposed to be to pay people not to do anything."
Focusing on getting the companies to make product commitments is a smarter way to protect the jobs of auto workers, said Sean McAlinden, executive vice president of research at the Center for Automotive Research.
"They know when the company parks a half-billion dollars in a plant, those jobs are guaranteed as they can be," he said.
That has workers at plants which don't have new product guaranteed to them, such as the General Motors (GM) plant in Shreveport, La., or the Ford plants in St. Paul, Minn. or Avon Lake, Ohio, desperate to get those commitments in the upcoming talks, McAlinden said.
He said the old job guarantees played a big role in making the U.S. automakers less competitive with the non-union U.S. plants operated by Asian automakers. And he said union officials understand the risks if U.S. automakers become uncompetitive once again.
"You're not going to be able to keep plants open if you go back to bad old days," he said.