GDP report: Economy grew at 3.1% rate in Q4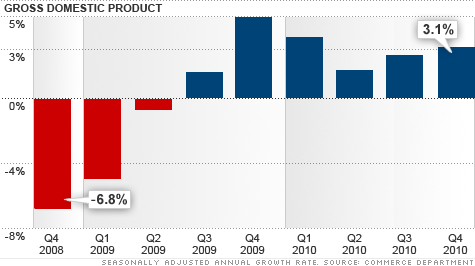 NEW YORK (CNNMoney) -- The economy grew slightly faster at the end of 2010 than previously thought, according to a government release Friday.
Gross domestic product, the broadest measure of economic activity, was revised higher to an annual growth rate of 3.1% in the three months ending in December.
The prior estimate had been for a 2.8% growth rate in the period.
While economists don't consider the three-tenths revision a major change, the report contained new information on strong corporate profits, which could be an encouraging sign for the job market going forward.
Company profits grew 9.7% during the quarter -- about twice what economists had been expecting.
"That's impressive when you have nominal GDP growth of only 3.1%," said Joseph LaVorgna, chief U.S. economist with Deutsche Bank. "To get that kind of corporate profit growth is impressive, and a good sign for 2011."
The government said consumer spending and exports helped drive the overall number higher in the fourth quarter, while budget cuts by state and local governments continued to hold growth back.
The Commerce Department calculates GDP as a measure of goods and services produced in the United States. The number is backward looking and is often revised multiple times. This is the third reading for the fourth quarter.