$2,000 a bottle for skin cream?! Yes - and sales are up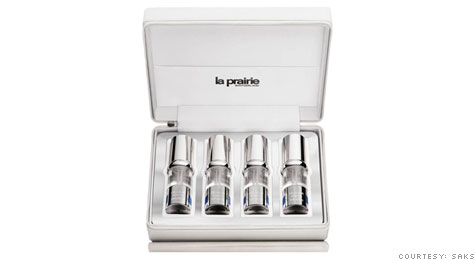 NEW YORK (CNNMoney) -- Call it a clear sign of a recovery: Sales of luxury skincare have rebounded sharply.
In 2010, sales of prestige skincare products sold in U.S. department stores reached $2.7 billion, according to the NPD Group, an 8% increase from 2009.
"That market has seen as resurgence at the end of the recession," noted Alexis Wolfer, editor-in-chief of online magazine the Beauty Bean.
When Saks Fifth Avenue celebrated the launch of La Prairie's latest skincare product, Cellular Power Infusion, last month, demand was so high that they had to limit customers to purchasing no more than six at a time. The price? Nearly $500 for four quarter-ounce bottles.
"We see a strong customer response any time a new and advanced product arrives in our stores," said Deborah Walters, senior vice president for cosmetics, fragrances and intimate apparel at Saks.
Tracy Brennan, the owner of Los Angeles-based Kalologie Skincare, says her customers have been moving into some of the higher price point products in recent months or buying the entire line instead of just one jar. Some products are constantly selling out.
"As much as we want to keep the shelves full stocked, we have to accommodate people via wait list sometimes," Brennan said.
But unlike other luxury products, the value of a face cream can be even harder to measure. Some of the priciest products on the market -- like Kanebo Sensai eye cream, which costs $320 for half an ounce and is currently backordered, or ReVive's Peau Magnifique which costs $1,500 for a four week supply -- credit complicated ingredients that claim to regenerate skin cells. But that's hard to measure.
"You are paying for this expensive ingredient, but there's not a ton of science behind it," Wolfer said. "There are really few clinical studies; you are really taking a brand's word for it."
Still, Wolfer says she also indulges in the pricier products for herself. "I am a big believer on your skin being your largest organ, but I think it's a personal decision," she said.