Shrinking Medicaid funds pummel states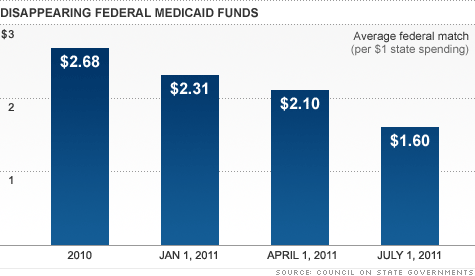 NEW YORK (CNNMoney) -- Strapped states are scrambling to address Medicaid's ballooning costs before the federal government cuts back a critical source of funding this week.
Medicaid is one of state's costliest burdens. And the weak economy swelled the rolls to record numbers. Nearly 49 million people -- or almost one in six Americans -- were covered by the safety net at the end of 2009, the latest figures available.
States regularly get matching funds from the federal government to help cover Medicaid burdens. But they've enjoyed an enhanced federal Medicaid match, thanks to the 2009 stimulus bill. The federal government sent an average of $2.68 for every dollar a state spends on Medicaid, up from $1.61 before the American Recovery & Reinvestment Act was passed, according to the Council of State Governments.
Now, the feds are incrementally ramping down this enhanced match, before cutting it off completely on July 1. After that, the federal reimbursement will return to pre-stimulus levels.
Starting Friday, states will lose 21 cents, on average, said Debra Miller, the council's director of health policy. This follows a 37-cent reduction that took effect at the beginning of the year.
The elimination of the enhanced match, as well as the higher enrollment rates, has left states in a fiscal bind. To address the shortfall, state officials want to put more recipients into managed care programs, eliminate or charge for certain services and slash rates to providers.
But some are not waiting until the summer to act. They are making changes now to lower the cost of administering the program. Several are also racing to pay bills before the April 1 deadline so they can secure the more generous federal match.
Coming up short
South Carolina is hoping to trim provider rates by 3% starting April 4 to help it close a $25 million deficit in its Medicaid department this fiscal year. Managed care organizations would also see a 12.5% cut in their administrative fees. The move should save $7.5 million.
This cut would be followed by a 7% reduction in the reimbursement rate to providers on July 1, the start of the new fiscal year. State lawmakers, however, must approve both changes.
The state, which saw more people sign up for Medicaid than it had anticipated, also plans to increase the participants' co-payments. Starting April 1, a doctor's visit will rise 30 cents to $2.30, while a dental exam and prescription drugs will each go up 40 cents to $3.40.
Meanwhile, in Illinois, the state comptroller is rushing to submit as many Medicaid bills as possible before April begins and the federal match get smaller. Over the past two weeks, it has paid about $650 million, more than three times the usual amount.
This will save Illinois an estimated $15 million, though it will force the cash-strapped state to delay payments to other vendors.
"At this point, Medicaid bills take priority," said Bradley Hahn, spokesman for Comptroller Judy Baar Topinka. "We want to put every dollar we can toward those payments and save the state money."
Squeezing Medicaid providers
Looking ahead to fiscal 2012, Medicaid participants and their providers will see even more changes.
Since the federal health care reform law is preventing states from slashing Medicaid rolls, they are leaning heavily on doctors, hospitals, nursing homes and other providers to cut costs.
In Texas, for instance, lawmakers are considering cutting provider rates by 10%, which would result in an overall 34% reduction once federal matching funds are factored in. Many nursing home operators say they could not afford to care for Medicaid patients for such low payments, putting 45,000 elderly Texans at risk of losing their beds.
The potential cuts in South Carolina have rattled the medical community there.
"Medicaid cuts will force some of these medical practices to close or move," Dr. Steve Imbeau, a South Carolina Medical Association board member, wrote in the Statehouse Report, a weekly commentary publication. "The physicians will have to reduce services or move."
Many states, including New York, New Jersey and Florida, are looking to enroll recipients in managed care programs to better control costs.
In New Jersey, for instance, Gov. Chris Christie wants to move about 121,000 people into managed care for pharmaceutical and basic medical services. He said this would allow doctors to prescribe less expensive drugs and treatments that are just as effective as more expensive care, while helping save the state $250 million.
"Medicaid's growth is out of control," Christie said in his budget address last month. "We must manage it better."