Medicaid funding busts state budgets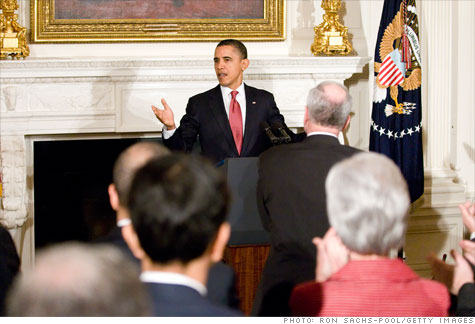 NEW YORK (CNNMoney) -- The Obama administration is giving states more flexibility in implementing the health care reform law, but that won't help governors plug one of their biggest immediate budget problems: Runaway Medicaid costs.
Several dozen governors are pleading with the president to let them drop enrollees in their costly Medicaid programs. They say this flexibility is critical in closing an estimated $125 billion budget gap for fiscal 2012, which starts July 1 in most states.
Medicaid rolls have ballooned because of the distressed economy. Enrollment has surged to nearly 62 million people, or one in five Americans, according to the government. And it's projected to expand another 6.1% during the current fiscal year.
Governors have been prevented since 2009 from tightening the rules for who gets Medicaid.
First, the federal stimulus program required that they maintain their eligibility guidelines if they wanted to receive increased federal matching funds for the program. That additional aid is running out this year.
Now, the health care reform law requires that they continue their Medicaid program essentially as is through 2014 for adults and 2019 for children in order to receive any federal funding for it.
"Medicaid's growth is out of control," New Jersey Gov. Chris Christie said in his budget address last week. "States desperately need relief from that unfunded federal mandate."
States spend more on Medicaid than on any other program other than education. The health care program eats up about 16% of their budgets, according to the Kaiser Family Foundation.
States shelled out a total of $130 billion on Medicaid in fiscal 2009 and received $249 billion from the federal government to cover the remaining costs, according to the Center on Budget and Policy Priorities. On average, the federal government pays 57% of the states' Medicaid expenses.
And the costs are only expected to escalate as health care expenses continue to rise.
In response, governors are doing what little they can to rein in costs.
In Maine, for instance, recipients would have to contribute more for their care under Gov. Paul LaPage's budget plan. Illinois providers would see their reimbursement rates fall by 6% if Gov. Pat Quinn's budget is enacted, saving the state $552 million.
In New Jersey, Christie wants to move aged, blind and disabled enrollees into managed care, and move their pharmacy benefits to managed care, as well. This would save the state $41 million, but overall Medicaid spending is expected to grow by $1 billion over last year.
So far, Arizona is the only state to receive some assistance from the Obama administration. Health Secretary Kathleen Sebelius granted the state's request to drop roughly 280,000 non-disabled adults from Medicaid coverage at the end of September.
While continuing to press for waivers from the health care reform's eligibility rules, Republican governors are also floating a proposal to turn Medicaid into a block grant program. This would allow them to receive a lump sum from the federal government and use the money as they see fit.
This move, however, would ultimately reduce federal funding for Medicaid, according to experts from the left-leaning Center on Budget and Policy Priorities.
The Obama administration, however, isn't keen on letting states reduce their eligibility or converting Medicaid into a block grant program, senior officials said Monday.
The president's announcement Monday that states can apply for waivers from certain health care reform requirements starting in 2014, three years earlier than originally scheduled, won't help states get out of their current hole.
To provide more immediate assistance, the federal health department has been working with states individually to discuss ways to reduce their Medicaid costs.
For instance, states can limit or charge more for optional benefits, such as prescription drugs, dental services and speech therapy. They can try to reduce their drug expenses, which totaled $7 billion in 2009, by using acquisition costs as a benchmark for reimbursement and by relying more on generic medicine and mail order.
And they can drop non-pregnant, non-disabled adults who earn more than 133% of the state's poverty guidelines if the state is in a fiscal crunch.
"We've been working one on one with states across the board so to try to figure out where we can begin to tackle their challenges," a senior administration official said.