EBay to buy GSI Commerce for $2.4 billion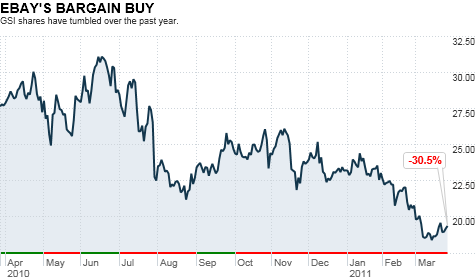 NEW YORK (CNNMoney) -- EBay said Monday that it has struck a deal to acquire e-commerce and marketing services firm GSI Commerce for $29.25 per share in cash, totaling $2.4 billion.
The price represents a 51% premium over GSI's closing share price on Friday, although it's a hair below the battered stock's 52-week high. The deal would be eBay's most expensive acquisition since its ill-fated Skype takeover.
Shares of GSI (GSIC) surged 50%, to $29.12, in morning trading. EBay (EBAY, Fortune 500) shares dropped 2%, to $31.07.
GSI's core business is providing e-commerce infrastructure -- e-store technology, payment processing, fulfillment, marketing and customer service -- for retailers. Its client roster includes major brands such as RadioShack, Dick's Sporting Goods, Toys "R" Us and Zales.
The company also runs a licensed sports merchandise business operating online shops for the NHL, NBA, MLB, Nascar and other major sports brands. That line of business will be spun off and sold to a new holding company headed by GSI founder and CEO Michael Rubin.
Rubin's company will also take on 70% of GSI's ownership stake in ShopRunner and Rue La La, two consumer-facing private shopping sites. EBay believes the sports and private-sale businesses "are not core to its long-term growth strategy."
Instead, it will focus on integrating GSI's e-commerce services with PayPal and its eBay Marketplaces retail site.
The acquisition is expected to close in the third quarter of 2011, pending regulatory and shareholder approvals. But under the terms of the deal, GSI may solicit acquisition proposals from other parties for a 40-day "go-shop" period that continues through May 6.