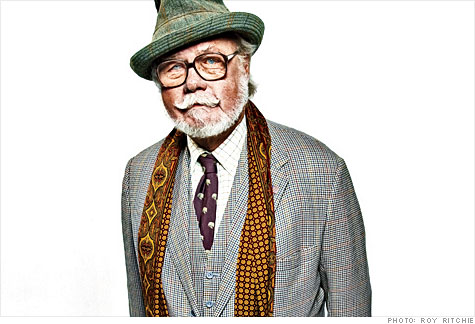 FORTUNE -- In the hours following the death of David E. Davis, Jr., on Monday, at 80, a bouquet of tributes blossomed online that called him "the dean of automotive journalism" and an "auto buff book pioneer."
They understate his influence. In his years as editor of Car & Driver, he reinvented automotive journalism and redefined what a special-interest publication could be.
I came to know Davis first as a reader, then as an admirer, and finally as someone in pursuit of a similar craft. He was fearless, funny, and unforgettable.
When Davis joined Car & Driver in 1962, automotive journalism was split between two poles, import and domestic. At one extreme was Motor Trend, which was devoted to Detroit iron with large displacement engines, and Road & Track, which made a fetish out of foreign cars driven by pipe-smoking men wearing sporty caps and string-back driving gloves.
Having worked at Road & Track as an ad salesman, Davis leaned toward the import side, but without the fussiness and pretension that went along with it. The controls of Davis' cars never fell easily to hand, and wind never swept through the hair of the blonde in the passenger seat.
Instead, Car & Driver viewed the world with the street-smarts of a New Yorker (where the magazine was edited, until it moved to Ann Arbor) and a fondness for tilting sacred cows.
In one notorious road test, Davis pitted a Ferrari against a Pontiac bearing the same model name in a cover story for the March 1964 issue titled "GTO vs. GTO." Enthusiasts were scandalized when the Pontiac was judged the winner, but Davis had made his point and garnered lots of attention for the magazine. (He reprised the stunt in 1984. The Ferarri won that time).
Although he was accused of favoring certain manufacturers over others, Davis was an equal opportunity iconoclast. He made no friends in Detroit when he ran a picture of a Ford (F, Fortune 500) Pinto parked in front of a junk yard -- and that was even before Pintos became famous for their exploding gas tanks. Ford reportedly pulled sheaves of advertising out of the magazine in retaliation. (Just to prove he had lost nothing off his fast ball, Davis published a column in Car & Driver last year, headlined "If the original Henry Ford was still alive, he would be building Subarus.")
Davis left Car & Driver a second time in 1986 to start Automobile magazine and ran it for 14 years. He had a knack for finding talent in unusual places, furthering the careers of car designer Robert Cumberford and one-time car mechanic and taxi driver Jean Jennings, who succeeded him as editor. As the fourth magazine in the buff-book category, Automobile seemed to lack the resources of the other magazines and never quite lived up to Davis' promise of "no boring cars."
Along the way, the Davis persona became fully-realized: one part bon vivant, one part English country gentleman, and one part Hemingway. He gloried in his shotguns and hunting dogs, and his monthly columns were studded with references with trips to exotic locales where the tab was picked up by somebody else. As a writer for the website "The Truth About Cars" archly observed, "We are only now outgrowing the idea of an 'automotive journalist' as a cigar-and-whiskey type delivering declarative statements from the comfortable driver's seat of a loaner Bentley or Ferrari."
Davis also became famous for his feuds. He and writer Brock Yates of "Cannonball Run" had difficulty keeping their respective egos in check. After he described Yates' book on Enzo Ferrari "lazy and self-indulgent," Yates rejoined, "A long-standing friendship was wrecked by what was widely considered to be a personal attack on me by a pal and former colleague." He even had a falling out with Jean Jennings, who recalls Davis saying on a television show that "he often dreamed of a FedEx plane dropping a grand piano over my house, with the aftermath being splinters and a grease spot where I had been standing."
Davis was a big man with only half of a fully- functioning face (the other half was scraped off in a car-racing accident) who could appear aloof and was certainly a curmudgeon. But in my half-dozen or so dealings with Davis over a quarter of a century, I never found him less than agreeable in, at first, answering my ill-informed questions, and then later, sharing a professional opinion or advice. I best remember him one evening at a Chrysler event in Tuscany when I cadged a ride with him and his wife Jeannie to the hotel where we were staying. At one point, we were stopped by a dozen or more wild boar that ran across the road. Ever the hunter, Davis got a gleam in his eye when he saw the "devilish little tuskers."
Just today, the May 2011 issue of Car & Driver arrived, with Davis offering his views on Chrysler leaders past (Lee Iacocca "who did everything right, almost" and "former hardware-store manager" Bob Nardelli) and present ("bright, energetic, Renaissance man named Sergio Marchionne"). It's a cigar-and-whiskey type delivering declarative statements, all right, and it is brilliant stuff that will be impossible to duplicate. Thanks to David E. Davis, Jr., automotive journalism grew up and got smart.
Department of Faulty Memory: I was mistaken when I placed a Ford Pinto in the foreground of a Car and Driver picture of a junkyard in my David E. Davis appreciation story. The correct vehicle should have been an Opel Kadet.