How drag racing became the sport of millionaires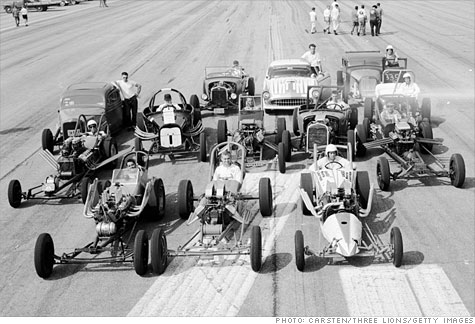 FORTUNE -- In the department of little-known milestones, 2011 marks the sixtieth birthday of the National Hot Rod Association. Started by magazine editor Wally Parks in 1951 in California, the association organizes and promotes the sport of drag racing, which is looking pretty lively as it approaches senior citizen status.
Drag racing sounds like one of those sports that was popular in the 1950s and 1960s -- like bowling -- when leisure time was abundant but has since been eclipsed by more intensive activities, like free-style skiing or rock climbing. How exciting can it be to see two cars race each other down a straight track in a contest that lasts only a few seconds?
But beneath the radar of East Coast opinion makers, drag racing has developed a solid base of devoted fans who go to races to feel the ground shake, their nostrils pucker, and their eardrums wrinkle. The NHRA claims 140 member tracks and 80,000 members. And for a sport once associated with thrill-seeking, leather-jacketed juvenile delinquents, it has attracted a surprising number of successful business people, including one near-billionaire.
The first nationwide NHRA event was held in 1955, in Great Bend, Kansas on a World War II-constructed training air field. The Nationals now comprise 22 events over 10 months held each year in cities like Charlotte, Houston, and Denver, as well as smaller towns like Commerce, Ga. and Reading, Pa. As many as 125,000 fans watch each race in person and another 1.1 million on ESPN2.
The NHRA claims 16.3 million fans, nearly half of whom are men aged 18-49. That's a higher percentage of males than either NASCAR or the NFL attracts, which makes the sport attractive to sponsors trying to get a message to this hard-to-reach demographic. They include Coke (KO, Fortune 500), GEICO, Motorola (MOT, Fortune 500), and the U.S. Army, which uses drag racing as a recruiting tool.
More than 200 classes of vehicles race in NHRA events, but Pro Stock, Funny Car, and Top Fuel are the big three. Top Fuel dragsters are 7,000-horsepower sleds, and they are capable of covering a quarter-mile in 4.4 seconds at more than 330 miles per hour. Funny Cars are similar but are shorter and have a carbon-fiber body that loosely resembles a production model, while Pro Stock cars are like factory hot rods, with gasoline engines that produce a mere 1,300 horsepower.
While driving a dangerously-overpowered car in a straight line isn't likely a solid stand in for two years at Harvard Business School, it has spawned a surprising number of successful managers and entrepreneurs.
Johnny Gray, 59, who has been racing for nearly 40 years and has been a top driver for more than 15 of them, is also president of Marbob Energy, a New Mexico oil producer co-founded by his father. By the time he sold it in 2010, the company was pumping about 14,000 barrels of oil a day. Gray split the $1.7 billion in proceeds with his sister.
Conrad "Connie" Kalitta, 73, was known as "The Bounty Hunter" when he raced from the 1950s through the 1990s. He was the first driver to hit 200 mph in an NHRA sanctioned event, and now he owns three teams, with a fourth on the way. He is also CEO of Kalitta Air, a specialized carrier of freight that ranges from heavy machinery to livestock, which has grown from three Boeing 747 freighters to 24 since he founded it in 2000.
Forrest Lucas, 69, is not a driver but his wife and son are, and he owns a multi-car team and sponsors several others. As a long-haul truck driver and owner in 1989, he saw the need for better oil products and founded Lucas Oil, which has become a world leader in additives and lubricants with revenues of more than $150 million. Lucas is branching out into other sports; he recently bought the naming rights to the stadium where the Indianapolis Colts play football.
Don Schumacher started racing in 1963 with his street car in Gary, Ind., and went on to set records in his Plymouth Barracuda funny cars. In 1974, he gave up racing to go to work in the family business and helped build Schumacher Electric, outside Chicago, into the world's leading manufacturer of battery chargers, with 900 employees working in its manufacturing facilities in Illinois, Indiana, and Texas. Schumacher rediscovered drag racing when his son Tony began racing in the early 1990s. Today, he owns seven teams.
Another of Schumacher's drivers is the aforementioned Johnny Gray, who continues to race despite his oil wealth. Apparently, the noise, smell, and rumble of drag racing are as addictive for drivers as they are for spectators.