Oil is up. Where's the demand for electric cars?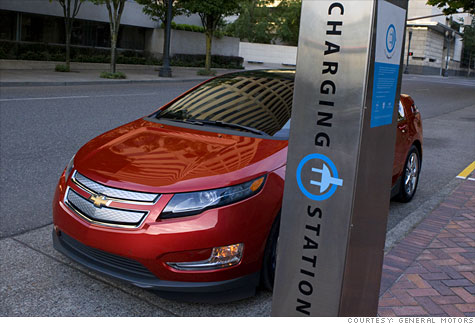 FORTUNE -- Anyone who's been behind the wheel of a car in the last few months has experienced a sharp pain when it came time to pay the gas tab. Prices ranging from $3.75 to $4.00 per gallon are not uncommon these days. And according to the United States Department of Energy, consumer fuel prices on average in the U.S. are up 21.8% from one year ago.
Of course, we've seen this story before. Every time gas prices fluctuate this wildly, there's the inevitable chatter about a fundamental change taking hold in the U.S. auto industry -- about a turn to alternative and low-emission cars and a consumer base that has finally and forever turned its back on the gas guzzlers of yore. Except things never quite work out that way.
"The market has been very, very fickle," says Philip Gott, managing director of IHS Automotive, a division of industry analysis firm IHS Inc. "When prices go up, people want fuel efficient cars. But when fuel prices are cheap, which they have [historically] been in the U.S., people [return to] large cars."
Up until now, this has been the cycle: high gas prices bring talk of fuel efficiency and alternative energy-fueled vehicles -- talk that dies down the minute gas prices drop. Detroit then returns to making the sorts of gas-guzzling vehicles it's been churning out for decades.
This time though, carmakers say things are different. They're not just offering underpowered econoboxes for sale. For the first time ever, a slew of hybrid and electric vehicles are at the ready.
As crude prices jump to around $100 per barrel, partly in response to the dual crises in the Middle East and Japan, there's a sense that something fundamental has changed. Major U.S. auto manufacturers are bracing for a very different sort of future: a market with much less oil and permanently higher prices for what oil there is. This, auto executives say, has caused them to start thinking very differently about the short and long term -- about increased fuel efficiency in the near future and alternative fuel vehicles moving forward. The question they have is when, and whether, consumers will be ready to follow suit.
"Our model shows volatility from now till who knows when," says Roger Clark, senior manager of the Energy Center at General Motors (GM). "Maybe forever." Because the U.S. is no longer the dominant global consumer and there's no longer an excess global supply of oil, Clark says prices will likely remain unstable.
Crude analysts confirm that point. According to Faisal Khan, Integrated Oil Analyst at Citigroup North America, the crisis in Libya has resulted in one and a half million barrels of oil per day going off market, with Saudi and non-OPEC oil currently filling the Libya gap. Khan says Japan's nuclear crisis could increase that country's petroleum demand by 200,000 barrels per day.
In the short term, this is a large part of what's pushing up prices. If the demand for oil during the last year continues, Khan predicts oil will climb even higher, especially with record auto sales in certain parts of the world. He forecasts that WTI crude prices will hover around $100 per barrel for the rest of the year.
How to get consumers thinking green today -- and tomorrow
With the oil situation in mind, U.S. automakers have begun shifting their focus, pushing the fuel-efficient vehicles they have now, but also focusing on longer term development of even more efficient and alternative fuel vehicles -- ones that consumers won't have to talk themselves into buying.
For example, in the last two years, Ford (F, Fortune 500) has begun pushing its "Eco-Boost" engine technology, which the company says promises 20% better fuel efficiency and 15% fewer carbon emissions. GM is marketing its Chevy Volt electric car, which Clark describes as the company's "space program." And there is an entire fleet of new alternative-fuel vehicles from the Ford Escape hybrid SUV to a new hydraulic-hybrid system which, this past January, Chrysler announced it would develop alongside the EPA.
It's not just gas prices leading the automakers to think more about alternatives to the classic internal combustion engine. The federal government has played a big role in incentivizing the turn to low emission and alternative-fuel vehicles, partly through stricter emission standards (last April, the EPA and the NHTSA announced new, stricter emission standards for consumer vehicles by model year 2016) and partly through new subsidies. In August 2009, President Obama announced $2.4 billion in federal stimulus money for the development of electric vehicles. The Obama administration has articulated a goal of seeing 1 million electric vehicles on the road by 2015.
Still, as Gott and others have pointed out, while the industry may be tinkering much more seriously with the concept of mass-producing alternative vehicles, the market isn't quite there yet. Gott says in the last two months pick-up truck sales hit a two-year high, and hybrid vehicles still only account for between 2% - 2.5% of the market.
"The consumer doesn't want [electric and hybrid vehicles] yet, because they're still too bloody expensive for what they deliver," he says. Indeed, sales of the two most advanced models around, the Nissan Volt and Chevy Leaf, are miserable. (Though to be fair, both carmakers are still ramping up production and working out the kinks.) Gott says that the next big hybrid market will come from commercial fleets, such as those operated by parcel delivery companies.
So when it comes to catering to individual car consumers in the near term, automakers are continuing to focus on improving internal combustion engines with an eye toward much more ambitious alternative fuel vehicles further down the road.
"For us, the roadmap is working first on conventional technologies," says Paolo Ferrero, senior vice president of global power trains at Chrysler. "We have a specific 'bang for buck' approach that prevents us from delving into expensive technologies that don't get the right result." In other words, car companies aren't going to build cars that customers don't want to buy.
Still, what has changed is that all of the major U.S. manufacturers agree that even if gas prices do end up going down in the next few months, major changes are already afoot -- and the days of the gas guzzling internal combustion engine are numbered. As one Detroit executive who asked not to be identified put it: "You don't get the sense that this focus is going to be fleeting -- that it's going to come and go. Right now you're seeing such a consistent focus across all the auto makers."
Or as GM's Clark put it: "The way we see it, the current spike [in fuel prices] is just another indicator." The carmakers are hoping consumers start to see it that way, too.