Cadillac pushes back into golf sponsorships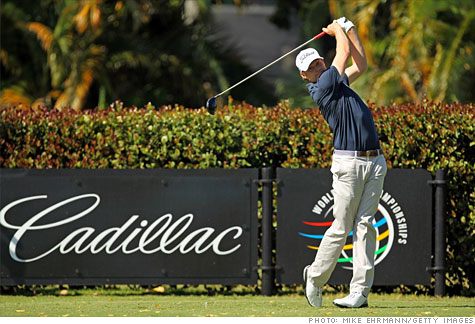 FORTUNE -- When the azaleas are blooming in Augusta, Georgia it's a sure sign that The Masters is nigh. Mercedes-Benz, as the elite golf tournament's automotive sponsor, sees no surer proof that it sits atop the world of luxury car brands, a perch once occupied by Cadillac.
Cadillac, which relinquished The Masters in 2007 after 40 years of sponsorship, hasn't thrown in the towel on regaining top-tier brand status -- or on golf. This year marks a return to prominence in the sport for Cadillac as a major sponsor of the PGA Tour. General Motors (GM), Cadillac's parent, reorganized under bankruptcy protection in 2008.
"Our tagline is 'the best or nothing," said Stephen Cannon, a Mercedes vice president for marketing. "We wanted to shift to marketing properties that were the best or among the best. The Masters is meticulous about how they manage every blade of grass, about their history. And they've built a worldwide focus, it's now broadcast in 185 countries."
The first round of the four-round event begins April 7. In addition to Mercedes, ExxonMobil (XOM, Fortune 500), IBM (IBM, Fortune 500), AT&T (T, Fortune 500) and Rolex sponsor The Masters.
Prior to the Masters, Mercedes's most important golf sponsorship was the early January tournament held at the Kapalua resort on Maui, Hawaii. The event was meant to capitalize on the glamour of Hawaii and the star power of the competitors, each of which had to have won at least one professional tournament the previous year to qualify.
More often than not, however, top golfers Tiger Woods and Phil Mickelson had chosen to skip the Mercedes event. TV ratings on the Golf Channel were tiny and not more than 10,000 or 15,000 spectators showed up, Cannon said.
"It was largely a hospitality event," he said, for entertaining Mercedes dealers and other clients, lacking the marketing clout of bigger international sporting events such as Formula One car racing.
The PGA Tour says that viewers of its golf tournaments are 76% more likely than average to have household income of more than $250,000 and 50% more likely that average to have purchased a luxury car.
By switching focus to elite international golf events only, Mercedes created an opening for Hyundai this year to take over title sponsorship of the Kapalua tournament, now known as the Hyundai Tournament of Champions.
Hyundai only recently has set its sites on attracting more affluent buyers, with advertising at the Academy Awards broadcast and the Super Bowl. The South Korean automaker hasn't yet created a luxury franchise; but it does have a luxury sedan. But Hyundai's Equus is positioned as a low-price competitor to those made by Lexus, Cadillac, BMW and, yes, Mercedes.
GM's Buick brand had sponsored up to four PGA Tournaments annually through the late 1990s. Buick no longer sponsors golf, preferring to concentrate on team sports such as college basketball. Cadillac, by contrast, tries to highlight individual achievements.
"That's why golf is good for Cadillac," said Don Butler, vice president of Cadillac marketing, "It's about individual excellence. We're also sponsoring tennis and skiing on a regional basis."
GM, which earlier this year signed a contract with NBC for television to sponsor the 2012 Olympics in London, should be spending less on marketing than it did prior to bankruptcy simply by virtue of trimming the number of its brands it must promote to four from eight.
Butler said the opportunity to sponsor the PGA Tour's World Golf Championship event at Doral Golf Resort & Spa in Miami "is a way to let customers experience our products." Cadillac models were on display around the course.
While returning to the Masters someday as sponsor would be sweet turnabout for GM and Cadillac, its executives daydream are more vitally hoping for the day that Cadillac sedans are regarded as proxies for Mercedes, Lexus and other luxury marques.
What none of them should forget is that Hyundai executives are dreamers, too.