Beef prices soar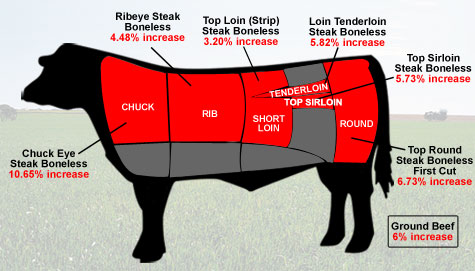 NEW YORK (CNNMoney) -- If you're already shocked by how much your favorite cut of beef costs at the supermarket, brace yourself because prices will keep going up.
Surging commodity prices already have consumers paying more for groceries such as eggs, milk, cereal and meat. The price of beef in particular has shot through the roof.
In February, the average retail price per pound for beef was $3.87, up 12.4% versus a year ago, according to market research firm FreshLook Data.
The average retail price for a pound of chicken was up 3.9% in February versus a year ago, turkey was up 5.4%, veal up 6.7% and pork up 10%.
Among all meat production, beef producers typically incur some of the highest production costs. For example, costs for cattle farming are much higher than for poultry farming.
Cattle farmers pay more for each animal, land for grazing, fertilizers, feed and processing systems versus poultry farmers.
Also the time it takes to prepare cattle for sale is much longer compared to other meats. It's just 46 days for chicken but can take a few years for beef.
Now, on top of the already high costs of doing business, inflation is further driving up expenses.
U.S. beef producers blame these higher production costs -- up 14% in the past year -- for the jump in consumer prices.
"There's inflation in everything we buy to run our business," said Bill Donald, president of the National Cattlemen's Beef Association, an advocacy group for beef producers.
Fuel used in machinery and trucks, grains to feed cattle and fertilizer used on the farms are all more expensive. Donald expects those trends to continue through the year.
"Last year we paid $3 a gallon for fuel. Now we're paying $4," he said.
Beef producers are also dealing with a shrinking cattle population.
As beef producers struggle with escalating business costs and growing debt, Donald said more of them are selling their heifers for meat production, instead of breeding them to grow the herd.
What's more, with prices for commodities such as soy and corn surging, Donald said some cattle farmers are also switching over part of their cattle grazing land to growing these high profit margin grains.
The nation's cattle inventory has dropped to 92 million head, the lowest level in 53 years, said Trevor Amen, market analyst with The Beef Checkoff, a government program created to generate funding within the industry to promote beef consumption.
"There's no economic incentive for producers to rebuild their herd." said Amen.
Tricky situation. The beef industry is acutely aware of the dangers of rising retail prices. Budget-conscious consumers could buy less beef and decide to eat chicken or some other protein instead.
Beef is the No.1 selling protein in the United States. Last year, consumer spending on beef totaled $74.3 billion. Per capita consumption of beef in 2010 was 59.6 pounds while per capita spending for beef was $240, according to industry research firm CattleFax.
"We want people to keep beef on their plate and think of it as a delicious, affordable protein," said Donald, adding that the industry is working on initiatives with retailers to keep beef affordable to frugal consumers.
For instance, Amen said producers are taking higher-priced large cuts and repackaging them into leaner and smaller portions.
Those smaller portions could include selling single-serve products. The single serve portions are cheaper than the larger cuts but they'll have less meat.
For those families that generally buy meat in bulk, beef producers have introduced a "slice and save" program.
Amen said consumers typically pay more for bulk meat that is cleaned up and prepackaged and cut up for them by stores.
"So what we suggested to retailers is to allow shoppers to buy the bulk meat and cut it themselves at home," he said.
The beef industry is also exploring other promotional offers such as coupons, said Donald.
"We're aware of the sticker shock for consumers," he said.
"We don't want consumers to start thinking of beef as a luxury item," he said.