Good jobs news is good news. Capisce?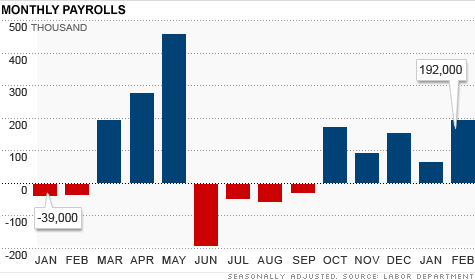 NEW YORK (CNNMoney) -- There is often a perverse logic to how investors treat news about the job market.
Companies announcing layoffs are typically rewarded by Wall Street on the notion that fewer workers equal lower costs and higher profits.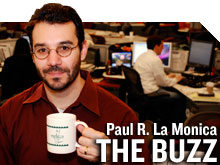 And when it comes to the crucial monthly employment numbers from the government, many traders worry more about how the jobs data will influence the Federal Reserve's monetary policy than what it means for the average guy or gal trying to find work.
Look what happened on Wednesday. Payroll processor ADP (ADP, Fortune 500) announced that 201,000 jobs were added in the private sector in March. That's good but not great. And it was also slightly below forecasts.
But stocks rose Wednesday -- partly due to the notion that these numbers give the Fed a Goldilocks scenario where it can justify keeping rates low for a lot longer.
Simply put, that's dumb. The economy -- and stock market -- would be much better off if jobs growth really starts to pick up in a much more significant way.
If the government says that more than 250,000 jobs were added in March -- the consensus estimate of economists surveyed by CNNMoney is for an increase of 180,000 -- then that's a cause for celebration, not concern.
Barry Ritholtz, CEO of Fusion IQ, a New York-based research firm, said that some investors, particularly in the fixed-income market, may worry that a strong jobs number will mean the Fed is less likely to launch another round of bond buying after the so-called QE2 plan ends in June.
But Ritholtz referred to those who take that view as "bond ghouls" who are more worried about "what's good for the trading book and not the country."
"Bad news is bad and good news is good. If the jobs number disappoints, people shouldn't cheer that there will be another round of QE," he said. "A good jobs number is good for consumer spending and profits."
You'd like to think most investors would realize this is true. More people working equals more people spending and a stronger, healthier economy. The goals of Wall Street and Main Street don't have to contradict each other.
Unfortunately though, many investors are myopically too focused on the short-term ups and downs of stocks and bonds to take a longer-term view.
Some people worry that the only reason the market (and to a certain extent, the economy) has held up as well as it has for the past few months is because of the Fed's easy money policies.
That's why it's a bit of a mystery how investors will interpret the March jobs numbers. There is one camp who thinks a robust job number would be a negative because it could lead to no more quantitative easing from the Fed.
But another group (including even Fed members such as Dallas Fed president Richard Fisher and St. Louis Fed president James Bullard) believes that the central bank has to be more worried about inflation.
Their argument is that the Fed should not only end any debate about more bond buying; it also should consider raising interest rates sooner rather than later.
"What's really puzzling is that there are two diverging opinions," said Dan Cook, CEO of IG Markets, a brokerage firm in Chicago. "Some people are whispering about the need for QE3 but others are saying the Fed has to scale back QE2 before it's over."
Cook said that even if the jobs number is better than forecasts, it's unlikely to be so strong that it would lead the Fed to do something drastic in the next few months.
Yes, the unemployment rate has dropped sharply. But even if it falls a bit from February's 8.9% level, it would still be relatively high by historical standards.
"It's really is hard to say the job market right now is good," Cook said.
So investors should not go nuts and speculate about what the Fed might do solely on the jobs number.
The Fed looks more at longer-term trends as opposed to individual monthly reports. And there's also other parts of the economy that are so weak that the Fed and investors can't ignore. Housing market, anyone?
"It's silly to worry about jobs being too good," said Rex Macey, chief investment officer Wilmington Trust Investment Management in Atlanta. "It's one number and given all the revisions that often happen and other economic reports, it's crazy to think that one monthly number will change Fed policy."
Finally, investors that want to see QE3 (and perhaps QE4 and QE5) may need to face facts and realize that the market can't remain addicted to low rates forever.
If the economy is really improving, the Fed has to raise rates. That's not the end of the world.
"Let's face it. The Fed is going to tighten someday," said Macey.
-- The opinions expressed in this commentary are solely those of Paul R. La Monica. Other than Time Warner, the parent of CNNMoney, and Abbott Laboratories, La Monica does not own positions in any individual stocks.