Stocks gain on jobs and energy optimism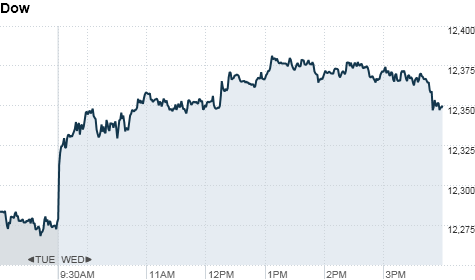 NEW YORK (CNNMoney) -- Stocks ended Wednesday with solid gains, as investors welcomed two reports on job growth.
The Dow Jones industrial average (INDU) added 71 points, or 0.6%, while the S&P 500 (SPX) added 8 points, or 0.7% and the Nasdaq Composite (COMP) gained 19 points, also 0.7%.
Meanwhile, smaller stocks reached pre-recession highs. The Russell 2000 Index, a measure of small-cap stocks, rose 1.2%, reaching its highest level since October 2007.
Wednesday was all about jobs, as investors look ahead to the government's payroll numbers on Friday. Before the opening bell, one report showed that employers announced fewer planned job cuts in March, even as government sector layoffs mounted.
A second report showed private sector employment rose by 201,000 in March, according to payroll processor ADP (ADP, Fortune 500). The figure came in slightly below forecasts but remained above 200,000.
Investors look to the ADP report as a guide for what's coming in Friday's government report.
"The market started off the day embracing the ADP report for payrolls, which came in pretty solid," said Howard Ward, portfolio manager for GAMCO Growth Funds. "There's a strong likelihood they won't be disappointed when Friday's number comes out."
A CNNMoney survey of 18 economists forecast an 180,000 jump in payrolls. They also expect the unemployment rate to hold at 8.9%.
So far this week, investors have shrugged off ongoing global concerns in the Middle East, Libya and Japan. Stocks in Japan rallied overnight, while shares in Europe were higher in active trading. The Dow has gained about 1% since Friday's close.
Energy: The energy sector pushed ahead after President Obama called for an increase in U.S. oil and ethanol production, to reduce the country's dependence on energy imports.
"It'll create more jobs in the U.S., which is a shot in the arm for markets," said Dan Flynn, energy trader with PFG Best.
ConocoPhillips (COP, Fortune 500) surged 2.4%, Exxon Mobil (XOM, Fortune 500) rose 1.5% and Chevron (CVX, Fortune 500) gained 0.6%.
Natural gas stocks also continued their rally, as Obama renewed his push for alternative energy sources.
"We have to discover and produce cleaner, renewable sources of energy," Obama said in a speech at Georgetown University. "And we have to do it quickly."
Shares of Chesapeake Energy (CHK, Fortune 500) and National Fuel Gas (NFG) each gained more than 3%.
Meanwhile, crude oil for May delivery slid 52 cents, to settle at $104.27 a barrel, after a government report showed U.S. crude inventories rose more than expected last week.
Natural gas futures for May delivery surged 2.4% on Wednesday, and have jumped more than 13% since early March.
Companies: Shares of Cephalon (CEPH) surged nearly 28% after specialty pharmaceutical firm Valeant (VRX) launched a hostile bid for the U.S. drugmaker.
Shares of private equity firm Apollo Global (APO) fell 4.2% after the firm priced its initial public offering at $19 a share -- the top end of its expected range.
Qihoo 360 Technology (QIHU), the third-largest Internet company in China, started trading on the NYSE Wednesday, a day after pricing its initial public offering at $14.50 a share. Shares surged 135% to $33.54.
Qihoo's debut marks the largest Chinese IPO in the U.S. this year, following successful IPOs by Chinese tech firms Dangdang (DANG) and Youku (YOKU) in December.
BlackRock's (BLK, Fortune 500) stock rose 6.6%. The investment firm is replacing Genzyme (GENZ, Fortune 500) on the S&P 500.
World markets: European stocks ended higher. Britain's FTSE 100 rose 0.3%, the DAX in Germany jumped 1.8% and France's CAC 40 added 0.9%.
Asian markets ended mostly higher. Japan's Nikkei rallied 2.6% and the Hang Seng in Hong Kong added 1.7%, while the Shanghai Composite was little changed.
Currencies and commodities: The dollar rose against the Japanese yen, but fell versus the euro and the British pound.
Gold futures for June delivery rose $7.40 to $1,424.90 an ounce.
Bonds: The price on the benchmark 10-year U.S. Treasury rose, pushing the yield down to 3.45% from 3.49% late Tuesday.