Your tax bill: 3 months of work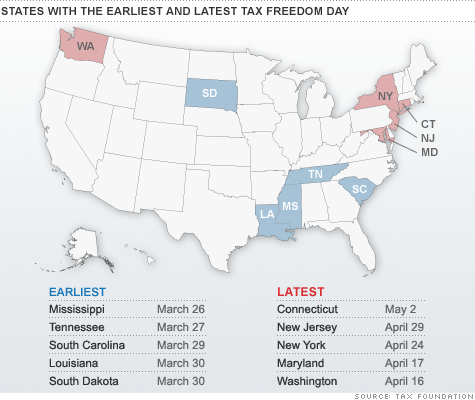 NEW YORK (CNNMoney) -- Feel like you're working long hours just to fork over your hard-earned dollars to the IRS?
Well, you are.
Americans will spend an average of 28% of their income to pay federal, state and local taxes this year, the Tax Foundation said Wednesday.
That means you will need to work 102 days -- more than three months -- just to earn enough to pay your tax bill. So on April 12 you will be free of your 2011 tax burden.
This year's "Tax Freedom Day," as the Tax Foundation calls it, comes three days later than last year. Rising incomes -- resulting in more income tax owed -- are largely to blame for its late arrival, the organization said.
"As the economic recovery continues, individuals' rising income pushes them into higher tax brackets," said Kail Padgitt, a staff economist at the Tax Foundation.
In addition, the federal estate tax is back this year, and new taxes are being paid as a result of health care reform, he said.
The Tax Foundation, a research group that favors lower taxes, calculates Tax Freedom Day based on income, Social Security, sales, property and other taxes.
Each state has a different Tax Freedom Day. Connecticut residents will take the longest to pay their tax bills this year, with Tax Freedom Day falling on May 2. New Jersey, New York, Maryland and Washington round out the top five, largely due to the high incomes in these states.
Mississippi celebrated the earliest, on March 26, followed by Tennessee, South Carolina, Louisiana and South Dakota. The Tax Foundation said this is due to the modest incomes of residents in these five states, as well as lower state and local tax burdens.
While the overall average of 102 days may seem like a long time to be working for the IRS, it's less time than the record of 121 days people had to work in 2000, when the booming economy significantly boosted incomes and led to the collection of far more income tax. That was also before the Bush-era tax cuts kicked in.
And then there's the little issue of the deficit, expected to again top $1 trillion this fiscal year.
According to the Tax Foundation, if the government collected enough taxes to finance all of its spending, Americans would have to work an average of 143 days to pay the tax man. Tax Freedom Day would fall on May 23 -- the latest deficit-inclusive Tax Freedom Day since World War II.