March jobs report: Jobs gain, unemployment falls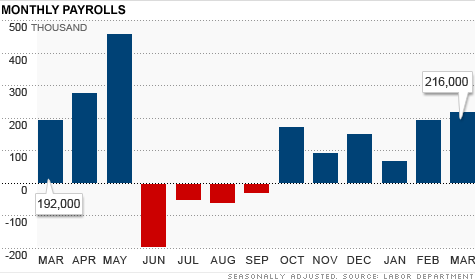 NEW YORK (CNNMoney) -- Improvements in the job market may finally be taking hold, as strong business hiring last month brought the unemployment rate down to its lowest level in two years.

The economy gained 216,000 jobs in the month. That's better than the gain of 180,000 predicted by economists surveyed by CNNMoney, and also a significant improvement over the 194,000 jobs added in February.
"Almost two years after the recession officially ended, the labor market appears to finally be picking up," said Kathy Bostjancic, director of macroeconomic analysis for The Conference Board.

The unemployment rate continued to edge down, dropping to 8.8%, the lowest level since March 2009. The unemployment rate has shed a full percentage point in the last four months, the largest four-month drop since 1984.
"The unemployment rate has broken through the sound barrier and is continuing to decline," said Sung Won Sohn, economics professor at Cal State Channel Islands. "The recovery in employment is here to stay."
While the payroll numbers are compiled from a survey of employers, the unemployment rate is determined by a separate survey of workers, which also showed significant improvement.
The number of discouraged job seekers who want to work but have given up actively looking was down slightly, as was the number of workers who wanted full-time jobs but could only find part-time work. Another encouraging reading -- the number of people who lost their jobs during the month was down by 125,000, falling to the lowest level in two years.
"It's strong across the board," said Tig Gilliam, president of the North American unit of job placement firm Adecco. "Is it as fast as we'd all want? Probably not, but it's moving in the right direction and it continues to accelerate."
Who's hiring and who's not
Private businesses added 230,000 jobs. Since businesses started hiring again a year ago, they have now added 1.8 million jobs, with nearly a third of those jobs added in just the first three months of this year.
The trend in business hiring is widespread, with 68% of industries adding jobs so far this year. Among the leading sectors were business and professional services, which added 78,000 jobs, health care and social services, which brought on 44,000 workers, and leisure and hospitality, which increased staffing by 37,000.
One closely watched sector, temporary workers, grew by nearly 30,000. That is important because many businesses will bring on temporary staff as a prelude to making permanent hires.
But while businesses continued to bring on new staff, public sector employers trimmed 14,000 jobs during the month, mostly at the local government level.
Local government staffing, which includes teachers, police and fire fighters as well as other administrative jobs, held up pretty well in the first 18 months of the recession while business payrolls were plunging. But those payrolls have now lost more than a quarter-million jobs in the last 12 months, with more than half coming from public schools.
And there is still continued pain for those without work. There are 13.5 million people who are unemployed, and another 6.5 million who would like a job but are not officially counted as unemployed because they're not looking.
Of those who are counted as unemployed, 45% have been out of work for six months or longer, and the average length of unemployment is a record 39 weeks.
Even with March's encouraging readings, climbing out of the 8.7-million job hole created during the recession will take a long time.
Economists say the labor market typically needs at least 300,000 new jobs each month to make a significant difference in the unemployment rate, and at least 150,000 just to keep pace with population growth.
"Job growth still isn't strong enough to bring the unemployment rate down rapidly," said Paul Ashworth, chief U.S. economist for Capital Economics. "If the rate is only falling by 0.1% each month, it would take another three and a half years to get back down to the pre-recession level."