Mercedes recall: Cruise control won't shut off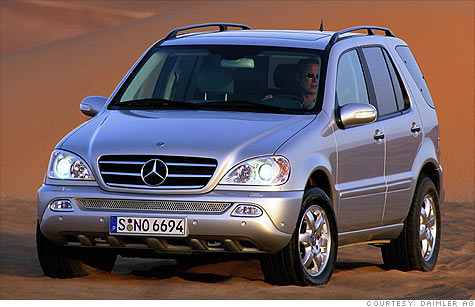 NEW YORK (CNNMoney.com) -- Mercedes-Benz is recalling 137,000 M-class SUVs because the cruise control doesn't immediately disengage when drivers tap the brake pedal.
Cruise control systems are supposed to immediately shut off the moment the driver uses the brake pedal.
Under some circumstances, particularly if the driver pumps the brakes, the cruise control system can require an excessive amount of brake force before it will shut off, according to a letter Mercedes-Benz sent to the National Highway Traffic Safety Administration on March 31.
In any case, the cruise control can still be shut off by using the steering column-mounted stalk that controls the systems.
The vehicles involved are model year 2000 through 2002 Mercedes-Benz M-class SUVS and 2000 through 2004 M-class AMG SUVs.
The recall is expected to begin in September. M-class owners can call Mercedes-Benz customer service at 1-800-367-6372.