Climate hawks still support nuclear power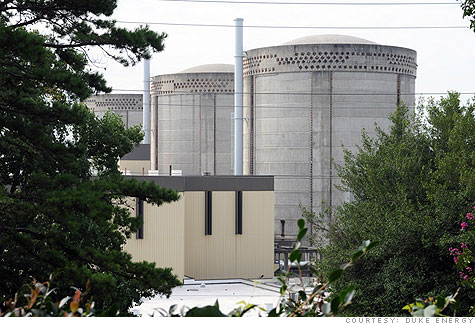 LAGUNA NIGUEL, Calif. (CNNMoney) -- Support for building more nuclear power plants in this country hasn't waned among many who are concerned over global warming, despite the ongoing nuclear disaster in Japan.
"Think of how many people die in coal mining, and what it does to the land," said Jim Rogers, chief executive of the utility Duke Energy (DUK, Fortune 500), which operates both coal and nuclear plants.
Rogers, who's been an advocate for regulations on greenhouse gases, said that despite the events in Japan, nuclear power is still a safe and clean source of energy.
He said other countries will continue using nuclear energy, and so should the United States.
"Do you think China is going to slow down, do you think India is going to slow down," Rogers asked the crowd during a discussion at Fortune's Brainstorm Green conference. "The nuclear renaissance will continue."
While no new nuclear reactor has received final approval for construction in this country in decades, Rogers noted that 61 reactors are currently being built worldwide. Most of them are in the developing world.
Others with greener credentials than Rogers agreed that more plants should be built in the United States.
"We are not against it," said Fred Krupp, president of the Environmental Defense Fund.
However, Krupp said that the events in Japan will make it more difficult to build a plant here -- a situation he is fine with.
"It's a good thing we pause here and try to figure out what went wrong and why," he said.
Connie Hedegaard, commissioner for climate action for the European Union, told the panel "nuclear will still be part of the whole equation."
"The numbers don't lie, coal kills millions every year" through air pollution, said Michael Shellenberger, head of the Breakthrough Institute, a think tank that aims to modernize liberal thought.
In addition to predicting continued or increased use of nuclear power, there was another thing that nearly all members of the panel agreed on:
The attempt to regulate greenhouse gases through a congressionally-mandated plan to cap emissions is dead. Supporters will have to think of another way to curb carbon dioxide, or at least pitch it differently, if and when the issue reemerges a couple of years down the road.
The Environmental Protection Agency has recently enacted relatively loose caps on carbon dioxide, but that effort has drawn the wrath of legislators and appears to be in jeopardy.
In the meantime, instead of any congressional action on global warming, incremental state laws and investments in technology will have to suffice, members of the panel said.
For more on Jim Rogers nuclear power plant plans, see Poppy Harlow's in-depth interview from Fortune's Brainstorm Green conference.