'Brazen assault on the EPA'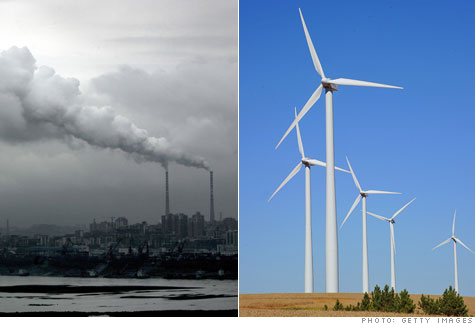 LAGUNA NIGUEL, Calif. (CNNMoney) -- Environmental Defense Fund President Fred Krupp came out swinging at this year's FORTUNE Brainstorm Green conference, forcefully calling out Exxon (XOM, Fortune 500), Big Oil, the coal industry and lawmakers on Capitol Hill for their efforts to weaken the Environmental Protection Agency's power.
"Never in four decades has there ever been this brazen assault on the Environmental Protection Agency's ability to protect our health," said Krupp. "In the House they've already passed an amendment that would mean the EPA couldn't enforce its effort to clean mercury from the air."
The EPA has been ordered by the courts to regulate greenhouse gases after the agency ruled that they are a danger to public health.
Some lawmakers, from both sides of the aisle, are scrambling to strip the EPA of this power, and even roll back some of its other regulatory responsibilities. They are concerned that regulating greenhouse gases will be too costly.
Krupp said that Exxon has been pushing its employees and even its retired employees to ask Washington to weaken the EPA because it's afraid of being forced to clean up its emissions. He called that the industry's biggest subsidy.
"Exxon wants that this big loophole of not having to clean up its emissions to continue," he said. "That's the biggest subsidy for the oil companies, that's the biggest subsidy for the coal companies, the fact that they're not required to have their products burn cleanly."
Exxon disagreed with Krupp's characterization of the company's motivation but said that EPA should not be taking the lead in regulating greenhouse gases.
"EPA plays a vital role in protecting our nation's health and environment, and these proposals do not prevent the EPA from addressing harmful air pollution," said Allan Jeffries, an Exxon spokesman. "However, Congress, not EPA, is the appropriate body to address comprehensive U.S. energy and climate policy."
Fortune's Brainstorm Green conference comes amid the ongoing nuclear tragedy in Japan and with the one-year anniversary of BP's Gulf of Mexico disaster around the corner. Those two events have left many wondering about our energy alternatives.
Here is more of what Krupp had to say:
On nuclear power:
"EDF is not an opponent of nuclear power but we want to be damn sure that if there is any construction that goes forward that we learn the lessons from Japan and right now it's way too early to do anything but find out what went wrong."
On deep water drilling:
"We think that there's more that needs to be done. We've just signed a letter along with many others in the environmental community to President Obama saying take a look at the findings that the National Oil Commission that was chaired by Bill Riley and let's implement those findings."
On Green Jobs:
"It's the biggest market opportunity to create jobs. The opportunity for us to insulate our homes and create energy efficient buildings could put massive amounts of people to work in the midst of this recession.
Check out Poppy Harlow's entire video interview.