Shutdown: 800,000 federal workers in the dark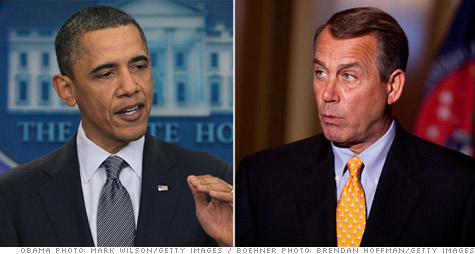 NEW YORK (CNNMoney) -- There are two kinds of federal workers right now: the essential and the non-essential. Most don't know which group they're in.
And none of them will be getting a paycheck if the government goes dark.
The budget stalemate between Congress and President Obama has raised the specter of a shutdown at the end of Friday.
If they don't reach a deal, the government will shift to performing only "essential operations."
It's likely that more than 1 million essential employees will be asked to come to work -- and not be paid.
But workers deemed non-essential won't be allowed to come to work or work from home. They won't even be allowed to turn on their BlackBerries. The official estimate from the White House is that 800,000 workers would be asked to stay home.
"Employees are waiting and hoping that a shutdown will be averted," National Treasury Employees Union President Colleen Kelley said. "But they are anxious because of the uncertainty. They want to know if they will be working."
Each agency develops its own shutdown plan, and then coordinates with the White House to make sure air traffic controllers stay on the job, borders are patrolled and Capitol Hill police come to work.
The agencies have started notifying employees that a shutdown might be on the way and have provided some basic information to workers about what to expect.
But the agencies and White House have been mum about who is essential, and who is not. Employees haven't been told which list they are on.
William Dougan, president of the National Federation of Federal Employees, sent President Obama a letter on Wednesday asking for the immediate release of the furlough lists, apparently to no avail.
"Most everyone believes their work is essential," Kelley said. "And they are worried about not being there on Monday morning to do that work."
Workers might find out on Friday. A memo sent to Health and Human Services employees, obtained by CNN, indicates that is the case.
"Should it become necessary to implement our contingency plans, you will receive formal notice from your supervisor no later than Friday April 8th regarding the designation of your position and furlough status," the memo reads.
And an official familiar with the plans said earlier notification, possibly on Thursday, might be in the cards.
"Last week would have been even better," Kelley said.
There is also the issue of pay. Without a spending deal, the government can't pay any employees.
Employees who work through a shutdown get back pay as soon as lawmakers reach a budget deal. The same is not true for non-essential employees who are furloughed. For them, Congress has to take an extra step to authorize back pay.
That's something lawmakers have done in the past, but there is no guarantee they will this time. After all, the last shutdown was 15 years ago.
"The economy is very different now," Kelley said. "And the Congress is very different too."