I'm addicted to infomercials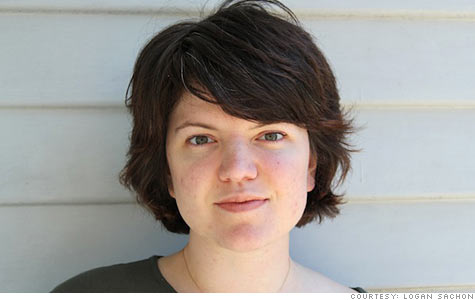 Logan Sachon is a Portland, Ore.-based writer who covers personal finance for Bundle.
I avoid watching television commercials at all costs. I fast forward through them, mute them, read Twitter updates during them. Because if I am channel surfing and come across an infomercial, I stop.
The eager salesman, the satisfied customers, the 800-number begging you to call -- it's entertainment, and I'm easily swayed.
The perky presenters are unapologetic in their enthusiasm for a product and its merits, and I appreciate that transparency. They aren't selling soda by selling sex; they are selling a blanket with arms by selling a blanket with arms. With only bland stage sets as props, they detail each reason and way the product will change your life.
And I want my life changed.
When I was in high school, I watched an infomercial about a fruit dehydrator. People with food dehydrators were healthy and happy, and I needed one.
When I asked my mom for one, I pointed out that the food dehydrator had the power to change the way I ate, to give me more energy and more nutrition, and to save my parents money. My mother thought the likelihood of me actually replacing Oreos with dried apple slices was slim to none.
She was right, but I didn't know it yet.
My first straight-from-TV purchase as an adult wasn't the food dehydrator (I moved on), but a Magic Bullet Blender for $50. I watched the infomercial and was sold on its versatility (make salsa! whip eggs! chop garlic! shred cheese!), convinced it would turn me into a home chef.
It didn't work. I do not use the Magic Bullet for meal prep or salsa making. The only thing I do with it is make smoothies -- something I already did with my regular blender.
Most of the products that I buy end up in the trash or at Goodwill because they didn't change my life in the way I'd envisioned at purchase. The Topsy Turvy tomato planter ($4.99) didn't turn me into a gardener; the Serious Skincare skincare system ($39.95) didn't turn me into someone with perfect skin; the Debbie Meyer's GreenBags ($9.95) didn't turn me into
someone who kept fresh vegetables from the farmers market on hand; the Perfect Push-Up ($39.95) didn't turn me into someone who could do push-ups.
I thought they would -- they all would -- but they didn't, couldn't. Products don't change who you are. I don't like to cook; no tool is going to change that. Fitness comes from practice, and no product is going to force me to do the work everyday.
An inventory of my stuff shows that I have $500 worth of quick-fix products intended to change my habits and change my life, and I know there's probably at least that much in the trash or floating around my local Goodwill.
That is a lot of money for me. But there's also a lesson that the lost money has taught me: There is no quick fix; I can't buy different habits -- at least not in a store or over the phone.
I am paying for therapy now, the last frontier in my quest for a change. I've learned that isn't a quick-fix, either. I'm paying $200 a month, and there's nothing to show for it. No stuff. No products. No promises.
But that just might be the best start there is: not buying into the promise of a quick change, and just not buying.