Junk bonds hitting saturation point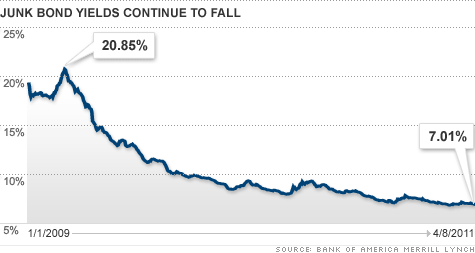 NEW YORK (CNNMoney) -- Wall Street can't get of enough junk bonds, with investors snapping up record amounts in recent months. But the market may have reached its tipping point.
Investors poured a record $3.84 billion into high-yield, or junk, bonds during the first week in April, according to EPFR Global. In fact, there have only been two weeks since the start of the year that investors have actually pulled money out.
With all that interest, fund managers say the market may be getting over saturated.
"There's not a lot of attractive product left, everything's been picked over," said Arthur Calavritinos, high-yield portfolio manager with John Hancock Funds.
High-yield bonds, also known as "junk bonds," are bonds that carry a Standard & Poor's credit rating of "BB" or below. Because of their speculative grade nature, these bonds carry a higher risk of default than, say, Treasuries, which are backed by the government.
But they also offer a higher yield than Treasuries and investors have been starved for a return, any return, in this low interest rate environment, said Matt Conti, fund manager for the Fidelity Focused High Income Fund.
"Coming out of the recession, we saw a lot of stock investors go into high-yield bonds," he said. "Now, it's the opposite. We're seeing traditional fixed income investors now putting money into high yield and taking on more risk."
A bright spot for junk bonds has also been the decline in default rates. The default rate in the first quarter was only 2.9%, according to credit rating firm Moody's, compared with 11% a year earlier.
However, as interest in junk bonds has risen, so have prices, which in turn has pushed yields down to around 7%, according to the benchmark Bank of America Merrill Lynch High Yield Master II Index. Two years ago, yields were more than double that.
"It's a time to be cautious and defensive [while investing in junk bonds]," said Conti. "This market can go down a lot faster than it can recover, so you need to be careful."
In fact, the Merrill Lynch index is now trading at similar levels to those in 1994, which was a particularly bad year for junk bonds.
Experts said that while high-yield bonds may still have another solid couple months of performance left in them, there are better places to put money to work.
"Honestly, I'd rather be in equities right now," said John Hancock's Calavritinos. "With high yield, you're paying for equity-like risk. So why get paid 7% when stocks can perform just as well or better."