Gas at $4? Time to invest in oil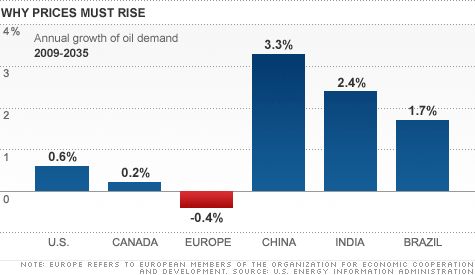 (Money Magazine) -- With tensions in the Middle East and North Africa pushing oil above $100 a barrel for the first time in two years, you may be clamoring for ways to offset rising gasoline and home heating bills.
So why not claim a stake in rising prices by investing in black gold?
Don't get me wrong, I'm all for developing alternative energy sources. But even if crude levels pull back temporarily once today's political turmoil begins to abate, long-term upward price pressures will take oil company profits along for the ride.
Numbers tell the story
The math is as compelling as it is simple: The world produces 84.4 million barrels of oil a day, and it consumes the same amount, according to the U.S. Energy Information Administration.
There's no room for error, unrest, shutdowns, or embargoes. And while demand in the U.S. (still the world's biggest user) has more or less stagnated, it's increasing quickly in India, China, and other fast-growing economies.
Yes, production is tightly controlled and can be ramped up, but new supply is coming from harder-to-reach spots. So for the foreseeable future, oil will be increasingly scarce -- and valuable.
That suggests that even though oil stocks led the broad market over the past year and have jumped 10% or more of late, the case for investing now is solid.
How to invest
Stephen Leeb, an economist, newsletter editor, and author of several books on oil, recently advised his subscribers to take positions in oil giants with large amounts of proven and potential reserves, including Chevron (CVX, Fortune 500), ConocoPhillips (COP, Fortune 500), and Occidental Petroleum (OXY, Fortune 500).
If you don't want the risk of individual stocks, Leeb suggests two mutual funds that hold a mix of oil producers and firms that sell them technology and other services.
Vanguard Energy Fund (VGENX) has an excellent long-term record and low expenses (0.38% of assets). Leeb's other option is the Guinness Atkinson Global Energy Fund (GAGEX).
While he cautions that the Guinness fund, because it invests in smaller companies, has a higher risk profile than Vanguard's portfolio, it also offers the potential for higher returns.
If you have a mad-money trading account, there's a Barclays exchange-traded fund with a can't-forget ticker symbol: OIL (OIL). It tracks the futures action in West Texas Intermediate crude and, like other ETNs, trades like a stock.
For a host of technical reasons, not to mention the volatility of oil prices, this is a vehicle for placing short-term bets.
North to the future
Finally, remember that the U.S. will remain a major oil importer for decades, and that Canada, not the Middle East, will meet most of that need.
Canada and, in particular, the oil sands of northern Alberta, may hold reserves equal to Saudi Arabia's -- that's 100 years' worth of current U.S. demand. Literally squeezing and boiling oil out of the sand is expensive and environmentally hazardous, but costs are declining.
With oil even half as expensive as it is now, extraction will be profitable. I've visited the oil sands a few times and I am a strong believer in their viability. To invest in them, use the Guggenheim Canadian Energy Income (ENY) ETF.
The $60 fill-up may be with us for a while. Put some of that back in your pocket.