2011 budget cuts revealed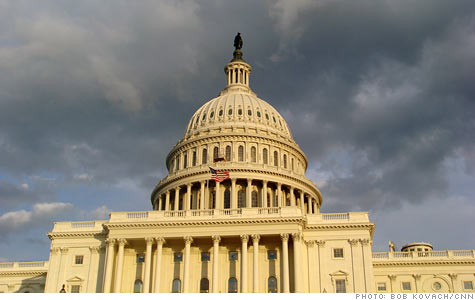 NEW YORK (CNNMoney) -- Lawmakers lifted the curtain Tuesday on a 2011 spending plan that will slash nearly $40 billion -- cutting back on a wide range of programs and services including high-speed rail, emergency first responders and the National Endowment for the Arts.
The measure represents the single biggest cut ever made to the federal budget in one year.
It also offered the first look at the $28 billion in spending cuts lawmakers and President Obama agreed to on Friday to avoid a government shutdown.
Congress had already used a series of stopgap spending bills to target $12 billion in reductions for fiscal year 2011, which started in October and is already halfway over.
Overall, the measure cuts across a wide swath of government agencies and programs, including some favored by the president. (See all the reductions)
Especially hard hit are the Departments of Transportation, Housing and Urban Development, Commerce, Justice, Labor and Health and Human Services. They all lose billions of dollars in funding.
Hundreds of individual programs are facing reductions, with the biggest cuts running in excess of $1 billion dollars.
Almost $3 billion for high-speed rail funds are cut, along with roughly $3 billion for highway construction and $6.2 billion in Department of Defense construction projects.
Social safety net programs are not spared. WIC, a program that uses federal money to subsidize the food and nutrition needs of children from low-income families, is cut by more than $500 million.
Grants to states that help pay for drinking water infrastructure projects are cut by $1 billion.
Every broad category of government receives a reduction in funding levels, with the exception of two: The Department of Defense and the Department of Veterans Affairs.
The Pentagon would end up with a boost of about $5 billion above last year's level. At the same time, the bill would slash $4.2 billion in military earmarks -- a type of spending Republicans have vowed to eliminate from the budget.
The Department of Veterans Affairs' budget would increase by $600 million over fiscal year 2010, an increase that is accomplished by reducing funds for military construction by about $10 billion while boosting spending on veterans' health care and benefits.
Some of the cuts are sure to play well with Republican lawmakers, while angering Democrats.
The bill would cut $377 million from the U.S. contribution to the United Nations. USAID will get $39 million less for operating expenses. Almost $1 billion is cut from a community development fund run by the Department of Housing and Urban Development.
"My committee went line-by-line through agency budgets this weekend to negotiate and craft deep but responsible reductions in virtually all areas of government," House Appropriations Committee Chairman Hal Rogers said in a statement.
Funding is also cut for four so-called administration "czars" including those who work on urban affairs, climate change, health care and autos.
There was confusion on Capitol Hill Tuesday about some of the cuts. A summary released by the House Appropriations Committee in the wee hours of the morning said that $1 billion would be cut from programs that help prevent the spread of sexually transmitted diseases. In fact, staffers confirm to CNN that was in error and that there would be no reduction directed specifically to those programs. (An earlier version of this article included the $1 billion figure.)
No matter the politics, Washington is likely to breathe a sigh of relief -- assuming the bill passes.
For government workers and the agencies that employ them, the deal means an end to the uncertainty that has besieged Washington since October, when the fiscal year started under a temporary spending measure.
The string of seven short-term spending extensions that Congress has used to fund the government has wrecked havoc on agencies and programs that depend on federal dollars.
Because agencies couldn't be sure how much money they would get for the year, projects were delayed and the implementation of new legislation thrown into doubt. Federal agencies quietly instituted hiring freezes, withheld grants and curtailed work on critical projects.
Officials at the Pentagon raised warning flags, arguing that military readiness was taking a hit because the department wasn't able to plan effectively, or issue major contracts.
The Defense Department even put the construction of an attack submarine on hold and struggled to avoid disrupting the workforce at the Virginia shipyard where it was to be built.
Congress will vote on the measure later this week. And that should close the book on the tortured 2011 budget process. In the meantime, the one-week funding extension lawmakers passed Friday will fill the gap.
That short-term extension became necessary after intense negotiations to avoid a government shutdown dragged right up to the midnight Friday deadline.
--CNN Radio's Lisa Desjardins contributed to this report.