Cotton prices heat up this summer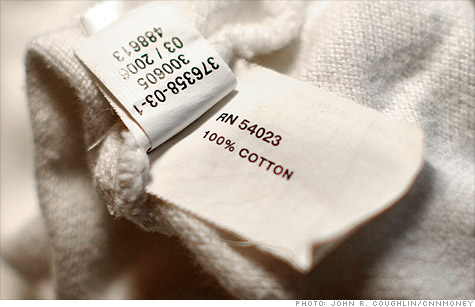 NEW YORK (CNNMoney) -- If you can't wait to shed that scratchy wool sweater for a cool new cotton T-shirt this summer, prepare yourself. The price hikes on cotton goods that are coming your way will be decidedly uncool.
This summer, shoppers will be paying 10% to 15% more on all cotton products, according to a new industry survey.
"I can't recall a time when we've seen this type of retail price [increase] on cotton products," said Andrew Tananbaum, executive chairman of Capital Business Credit, which provides financing to clothing and home furnishing suppliers.
For years, raw cotton prices had been falling, keeping a lid on retail prices for shirts, socks, dresses, home furnishings and other cotton merchandise.
But that trend dramatically changed over the past year, as cotton prices soared to record highs following a global supply shortage.
As raw cotton prices surged, manufacturers and sellers have fought to insulate shoppers from paying more for cotton products.
But that's ending, with producers and sellers saying they're no longer able to eat up the additional costs to their business.
Spiking cotton prices, higher transportation costs and ballooning business expenses will now have to be passed along to consumers, companies polled in the CBC survey said.
"Speculation of inflation has haunted the global recovery since the [economic] recovery began," said Tananbaum. "We now have concrete proof that the cost of raw materials has not only increased but will quickly correlate to an increase in consumer prices."
Other than paying more for cotton items, consumers will also see more non-cotton clothing hanging on store racks.
89% of manufacturers surveyed said they will replace higher-priced cotton with rayon and Lycra while a quarter of firms said they will design products differently to use less cotton fabric.
The CBC survey, conducted in March, polled 70 manufacturers and importers who make some, if not all, of their products in China, Vietnam, Bangladesh and Pakistan.