LeBron's Liverpool deal: A sign of what's to come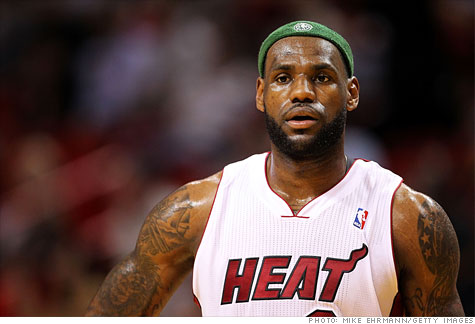 FORTUNE -- Yes, LeBron James now owns a part of the English football club Liverpool -- but that's only one piece of the story.
Since news emerged last week that James had signed with Fenway Sports Marketing (part of John Henry and Tom Werner's Fenway Sports Group), most coverage has focused on the fact that James will now have a partial stake in Liverpool, which is owned by FSG. However, what James has done will have larger implications not just for his own branding, but for the future of sports marketing at large.
Paul Wachter, founder and CEO of Main Street Advisors, spoke with Fortune about how this deal was born. Main Street is an investment advisor for James, and Wachter has worked with the Red Sox for many years; he was involved in the original acquisition of the Sox by Henry and Werner. Wachter was approached by Maverick Carter, who manages James and runs LRMR Marketing. Carter wanted to hear ideas.
"We had done creative equity deals for LeBron in the past, like with Cannondale bikes," said Wachter. "And we are always interested when someone is a brand, like LeBron -- beyond just an athlete. You can combine that with big business. Certain guys will do a commercial, but they're not valuable beyond that. But he's an international figure, and understands business. He's not just 'Hey, I'm LeBron, buy my toothpaste.'"
Wachter immediately thought of FSG, which already had a hand in three major franchises: the Red Sox, NASCAR (they own a team, Roush Fenway Racing) and Liverpool. The idea "hit me like a lightning bolt," he said: "They had those three big silos and they could layer him in as another major silo. He's a brand in and of himself, and should be treated like one."
Indeed, James is one-man brand at a level that few professional athletes have attained -- perhaps only Tiger Woods, Alex Rodriguez and Peyton Manning share the same rarefied air, and those last two are far less internationally known than James.
What's unique here is that James approached this deal himself with Carter, his manager and friend. An athlete would normally go to a major sports agency like CAA or IMG and retain traditional representation. Calls would be made, numbers would be tossed around, much of it without the athlete present. But James is in a different world -- one in which the star gets to say, 'I'd like to get into business with...' and pick his partners himself. It's easy to imagine that other athletes will want to follow the James model, if they can.
Meanwhile, the deal with FSM goes well beyond Liverpool. The Fenway guys will exclusively manage all of James's deals from here forward. "Liverpool is just one component," said Tom Werner. "The most important part of the deal is that because we don't represent the interest of 100 athletes or 500 athletes, we're going to be able to focus on how to create opportunities for LeBron."
FSM and LRMR (the more official way of saying, essentially: Henry, Werner, James and Carter) have already paid a visit to a number of companies, and come back with heavier pockets from doing so. FSM engineered James's watch deal with Swiss company Audemars Piguet, which will now use him as an ambassador for their brand. They announced it on Sunday, only days after the FSM deal itself was heralded. The takeaway: these meetings and deals are taking hours, not months. Within the year, James may have 10 more deals; there seems to be no limit.
Nearly every athlete has a watch deal, but not many hook up with food chains. Werner told us that, among others, team James just met with Dunkin Donuts: "We can have a different kind of conversation with them than if we [were a large agency] and asked them, 'Which of these people are you interested in?' They are keen to expand their footprint into China, and there may be some relationship we can forge with them on that." He added: "There are also conversations on the way with [bank] Standard Chartered. They're Liverpool's main sponsor and they were very excited about this situation."
The only question that remains is whether the Fenway faithful will be OK with their team's owners also being on Team LeBron. The business partners aren't concerned. "Investing in opportunities outside New England can only strengthen the Red Sox," Werner said. He was also happy to lay it out there that, "We're a very hungry, opportunistic company."
Those in and around Boston might agree, but not because they are fans of James or the deal. LeBron may be breaking barriers in the business world, but his reputation is still reeling from "The Decision," the infamous egofest special that ESPN broadcast for him last summer. Still, Boston fans might care that LeBron wears a Yankees hat and will be a playoff threat to the Celtics for years to come. Steve O'Connor, a Needham, Mass. businessman and rabid Red Sox fan, commented: "If LeBron shows up at Fenway Park, he'd better be wearing a Red Sox cap."
Wachter would not comment "in terms of how they like him or don't like him in Boston," but reiterated, "the bottom line of this deal is the joint venture between LeBron, an iconic U.S. athlete, and this global branding and marketing company that FSM is becoming."
The bottom line for sports fans and the business world is more simple than that: James is inching towards becoming the worldwide brand that Michael Jordan (and the Jumpman concept) became, whether or not he's MJ's true heir on the basketball court. His dealmaking will only grow in the coming years. He has long consulted with Warren Buffett, even appearing in a humorous 2007 video for Berkshire Hathaway (BRKB) shareholders.
James, in a way, is shunning the business model of his fellow athletes, and instead emulating rapper-CEO Jay-Z, a personal friend who slips LBJ into his lyrics often. ("My young'n is LeBron," he brags in "Do U Wanna Ride.") LeBron may be the first athlete who isn't just a businessman -- but a business, man.