Obama: Ready for 'tough cuts'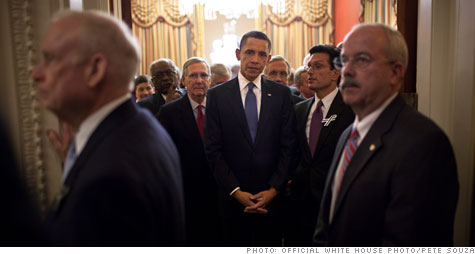 NEW YORK (CNNMoney) -- President Obama has got the spending cut religion.
His new debt plan takes the blockbuster spending cuts working their way through Congress, embraces them, and then cuts even more.
And we all know how easy that was.
Obama's new plan doesn't name programs or services to be cut, but calls for a reduction of more than $1 trillion in non-security spending over 12 years.
Discretionary accounts, which require annual funding from Congress, will be hardest hit. Obama would reduce spending in that small part of the budget by a total of $770 billion. An additional $360 billion would be stripped from mandatory accounts.
The whole plan, which includes reforms to the tax code, as well as entitlement programs like Medicare and Medicaid, would cut $4 trillion in deficits. (Read the speech here.)
"This is bigger picture stuff," said Donald Marron, the director of the Tax Policy Center and a former acting director of the Congressional Budget Office. "The debate has changed."
Accused by many fiscal experts of offering a 2012 budget proposal that failed to make hard choices, it's now clear that Obama does want to cut spending. But he wants to do it on his own terms.
"We will make the tough cuts necessary to achieve these savings, including in programs I care about, but I will not sacrifice the core investments we need to grow and create jobs," Obama said Wednesday.
That's the new Obama spending cut mantra.
He won't have to wait very long. Congress is working to put a bill on his desk by the end of the week that will set spending levels $38 billion lower than the start of the fiscal year.
Once that becomes law, Obama wants to cut even more, reducing non-security discretionary spending to levels proposed by his bipartisan fiscal commission. The administration says that would mean additional savings of $200 billion.
And the $400 billion five-year freeze in non-security discretionary spending Obama proposed in his 2012 budget request is still on the table.
That all means a lot less funding in a part of the budget that contains social safety net programs and the types of investments in infrastructure and technology Obama says the country needs to stay competitive.
According to Isabel Sawhill, an economist who studies fiscal issues at the Brookings Institution, funding reductions of the size proposed by Obama will start cutting into bone.
"There is no way we can cut this deeply and not hurt both the investments and low-income families," Sawhill said.
Mandatory programs -- which don't need annual authorization from Congress to spend -- will be cut or reformed for savings of $360 billion.
That will mean changes in agricultural subsidy programs, the federal pension insurance system and the federal unemployment insurance trust fund, as well as other changes proposed by the bipartisan fiscal commission.
One budget area where Obama's plan falls short of the fiscal commission's recommendations is in military spending.
Obama is calling for growth in baseline security spending to remain below inflation, a move the White House estimates would save $400 billion over the next 12 years. That's less in savings than his debt commission achieved.