Senator to JPMorgan CEO: Stop whining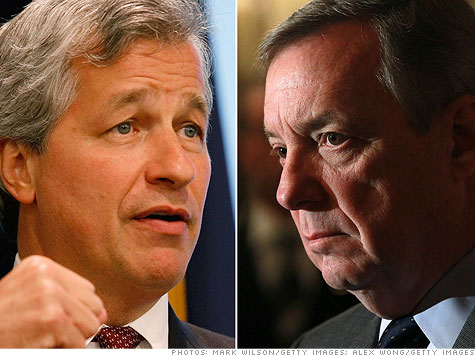 WASHINGTON (CNNMoney) -- JPMorgan Chase CEO Jamie Dimon, who is critical of a key provision in the financial reform law, has been taken to task by a U.S. senator in a scathing letter.
On the eve of JPMorgan's (JPM, Fortune 500) announcement of strong first-quarter profit, Sen. Richard Durbin, an Illinois Democrat, chastized the bank for warning its customers they may have to pay more in fees to use their debit cards.
"There is no need for you to threaten your customers with higher fees when you and your bank are already making money hand-over-fist," Durbin wrote to Dimon. "And there is no need to make such threats in response to reform that simply tries to spare consumers from bearing the cost of interchange fees that are anticompetitive and unreasonably high."
The fight is getting downright personal over the Federal Reserve's work to cap so-called "interchange" or "swipe" fees at 12 cents per transaction, down from an average of 44 cents now. Retailers pay those swipe fees, which cover the cost of processing debit cards.
Such a cap could cut into the banking industry profits by tens of billions of dollars -- a point often reiterated by Durbin, who has been fighting to crack down on the swipe fees for years.
But banks, large and small, have launched a fierce fight over the cap and are making legislative progress in signing lawmakers up to delay it.
Dimon wrote in a letter to shareholders, that the proposed caps are "price fixing" and "downright idiotic."
In his letter to Dimon, Durbin argued for swipe fee "reform," rebutting Dimon's allegations and accusing JP Morgan of trying to keep fees high for the sake of profits.
"I recognize that Chase will likely see decreased revenue from interchange reform, but I urge you to keep some perspective," Durbin wrote, enumerating Chase's recent run of strong profits and taking aim at Dimon's "own personal compensation."
"In contrast, middle-class American families are struggling to get by in a tough economy -- an economy that went south because of the banking industry's unregulated excesses," Durbin wrote.
The idea behind the new caps is to help small businesses at the expense of credit card companies, such as Visa, as well as Wall Street banks.
Smaller community banks and credit unions were exempted from having to abide by the new caps. However, the little guys also oppose the caps, saying that they will also be forced to cut debit card swipe fees either to match competition or to ensure retailers won't reject their cards with higher swipe fees.
While giant banks such as JPMorgan have been the loudest foes of the caps, it's the smaller banks and credit unions that have proven to be the most powerful on Capitol Hill in persuading lawmakers that the new cap should be delayed. There are legislative efforts underway in both chambers to delay the caps.
Last week, Rep. Barney Frank, a powerful Massachusetts Democrat, who helped write much of the financial reform, said he also supported legislation to delay the limits on debit card swipe fees, calling it the "only part of the financial reform bill that needs to be amended."