Extreme couponing: $1,100 of groceries for $40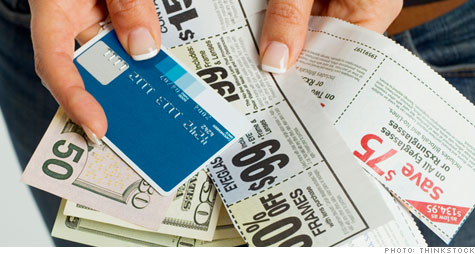 NEW YORK (CNNMoney) -- On a good day, Tiffany Ivanovsky walks out of the grocery store with shopping bags full of food, having saved 80% to 90% of the bill.
No, she's not a shoplifter, she's one of a growing number of extreme couponers who treat saving like a competitive sport. And there are big scores: Ivanovsky recently got $1,100 worth of groceries at Kroger for just $40.
"It feels good to save that kind of money," she said.
Ivanovsky often gets food for free or even makes money on purchases. To do that, she uses multiple coupons or stacks manufacturer coupons on top of store coupons to get bigger discounts. And when the coupons actually exceed the value of the item she is buying, she makes money.
At Wal-Mart, for example, if the coupons add up to $2 off of a product that only costs $1.25, then she gets 75 cents credited to her bill.
And in extreme couponing, there are few restrictions on what constitutes fair play. For example, Ivanovsky prints coupons from multiple computers in her house to bypass the limitations per IP address or divides her purchases into multiple transactions.
Some of the more generous policies at stores like Wal-Mart, Dollar General and CVS encourage customers to take advantage of multiple promotions and the rewards programs, despite those that go to extremes.
Other retailers, like Safeway, have policies that prohibit customers from stacking electronic coupons with manufacturers' coupons -- exactly what Ivanovsky does to get her great deals.
"Although it can drive sales up, retailers still want to sell the product at a level of profitability to meet their financial projections," added Daniel Butler, vice president of operations for the National Retail Federation.
"You can do a promotion that drives a lot of people into the store but at the end of the day that's not good for your customers or the company if a retailer goes out of business because they didn't manage their promotional money effectively," he added.
To help curb extreme couponing, Coupons.com limits the number of coupons any user can print and embeds important security features to disable reproduction, said Jeanette Pavini, a savings expert with the site.
"Extreme couponing isn't consumer friendly because it creates out-of stock situations, where consumers cannot purchase products on their list," she said. "And, manufacturers or retailers don't like empty shelves because no one makes money in that scenario.
But TLC is betting that people will be fascinated by the culture of couponing. The channel is featuring Ivanovsky and others like her on a new series, Extreme Couponing. They devote several hours a day researching how to combine deals and often stockpile their pantries for next to nothing.
"I know sometimes it gets aggressive, but all of those offers are legitimate and they're out there, that's fair game," said Brad Wilson, founder of BradsDeals.com, a site that showcases the best daily deals on the web.
Alternatively, consumer savings expert Andrea Woroch says more people need to get on board with the extreme couponing trend to capture the money saving (and making) opportunities.
"It's a lot of planning ahead but it's pretty impressive the amount of money that they can save," she said.
Consumers may already be there. Nearly three-quarters, or 72%, of Americans said they plan to off-set rising food prices by incorporating coupons, according to a recent survey by Coupons.com and conducted by Harris Interactive.
Pavini advocates for a tempered approach. "Sign up for a store loyalty card and build your menu around what's on special, then look for coupons for those items," she said.
"You really can spend 10 minutes doing this and save a considerable amount of money."