Score a gas discount with coupons and deals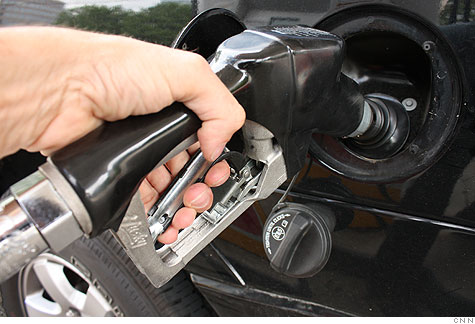 NEW YORK (CNNMoney) -- The recent run-up in gas prices is taking a big bite out of most consumers' budgets. But there are ways to save at the pump that don't involve driving less or buying a more fuel-efficient car.
Nationwide, drivers on average spent $347 on gasoline in February, or nearly 8.5% of income, according to the Oil Price Information Service.
Few people realize, however, that they can ease the sting of rising gas prices by taking advantage of coupons, discounts and savings cards.
Some gas stations, for example, offer coupons for discounts on gas that can be found in newspapers, circulars and online.
"People aren't really aware of coupons for gasoline," said Cotter Cunningham, CEO of WhaleShark Media, which owns popular coupon-sharing sites like RetailMeNot and Deals.com.
A quick web search will result in printable coupons for as much as 7 cents off per gallon, but they're scattered across various stations around the country.
Trying to find an online coupon for a gas station near you can be like trying to find a needle in a haystack. And even if you do locate one, you may actually be able to save more with other tactics, said Brad Wilson, founder of BradsDeals.com.
For example, it's often significantly cheaper to fill up at warehouse clubs like Costco, Sam's Club or BJ's, Wilson said. At these stores, there's very little markup, he explained. Plus, they often offer additional discounts to members.
At Sam's Club, for instance, members typically save an additional 5 cents per gallon, although the discount can vary widely from one location to another, said a company spokeswoman.
Deals also can be found through big-name grocery stores. A Kroger's loyalty card, for example, lets consumers accumulate points they can then exchange for discounts on Shell gas.
For every $100 spent on groceries, prescriptions or gift cards, shoppers typically earn 10 cents off per gallon at the pump.
That works for Lisa Reynolds, a couponing pro for RedPlum. She says she often pays $3.35 instead of $3.45 a gallon in Livonia, Mich. Over the course of a year, that adds up to more than $100 a year in savings.
In other cities the discounts can be much greater -- as much as 50 cents or more per gallon. In Cincinnati, where Kroger's is headquartered, shoppers who spend $1,000 on groceries in a month get $1 off per gallon at Shell.
"It's definitely a popular discount program, people love to save money on gas," said Kroger's spokeswoman Denise Osterhues. Osterhues, who lives in Cincinnati, says she uses the discount all the time.
Other supermarkets like Associated, Price Chopper and Food Lion have similar deals that vary by location.
Another way to get savings is through the cash-back credit and debit rewards cards of some gas companies, like Shell. These cards can carry very high APRs, though, warned Bill Hardekopf, CEO of LowCards.com, a site that reviews credit card rates. If you ever carry a balance and get charged a steep interest rate, saving a few cents on gas may not be worth it.