Detroit public school teachers get layoff notices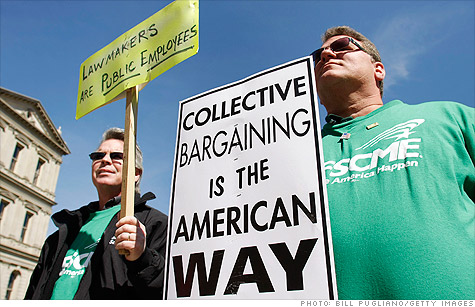 NEW YORK (CNNMoney) -- The Detroit Public Schools district is sending layoff notices to all its 5,714 teachers, saying it must determine its staffing needs amid a drop in enrollment.
The district is also mailing non-renewal notices to 248 administrators.
Detroit has lost one-quarter of its population over the past 10 years and now has as many people living in the city as did in 1910, two years after Henry Ford debuted the Model T.
Student enrollment, meanwhile, has dropped to about 73,000 -- down more than 83,000 from 10 years ago. The district is also facing a $327 million budget deficit.
While not every teacher will lose his or her job, there will be a reduction in staffing, the district said Thursday. It sent the notice to comply with the union contract. The effective date of the layoffs will be July 29.
"The timeliness of the process allows for ample preparation so that the district can assess staffing needs to create a smooth transition for the start of the school year," the district said in a statement.
The district is also warning the Detroit Federation of Teachers that certain provisions of the union contract may change under a new state law that gives certain powers to the district's emergency manager, Robert Bobb. The law allows emergency managers to reject, modify or terminate collective bargaining agreements.
Bobb said he "fully intends to use the authority" granted under the law.
The teachers' union, however, said Bobb was conducting a "backdoor attempt" to circumvent seniority. In late 2009, both sides signed a contract that contained $90 million in cost cuts and the union expects him to honor that agreement, said Keith Johnson, president of the Detroit Federation of Teachers.
"It was heralded and praised then, he'll have to live with it now," Johnson said of the contract that deferred teacher salaries, raised their prescription co-pays and narrowed their health insurance choices.
Detroit's school district's financial woes mirror that of the city and state. The district had to issue $231 million in short-term debt last month to keep itself operating until August. It also wants to turn 41 of its 142 schools into charter schools, which would eliminate up to $99 million in operating costs.
Detroit's move follows a similar move in Providence, R.I., in February. The Providence public school department sent dismissal notices to every one of its 1,926 teachers.
A month later, the district announced it wanted to shutter four schools, eliminating up to 70 teaching positions. The closures would cut more than $12 million from the Providence school district's budget, which faces a $28 million deficit next year.