Tata Nano: Little car, Big ambitions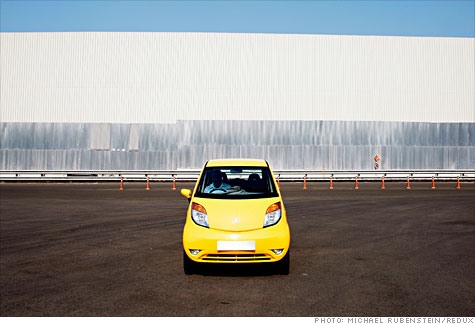 FORTUNE -- Nothing better demonstrates Ratan Tata's vision for his company than his ambition to build a modern-day Model T -- a people's car -- that would lift India out of motorbikes and auto rickshaws into the 21st century of motoring. The 2011 Nano, with a starting price of $2,900, has the capability of delivering on his vision. But the Nano has struggled with the complexities of life in India.
Tata (TTM) first planned to make the car at a plant in West Bengal. Farmers protested, and Tata decided to move. The state of Gujarat in West India offered Tata a factory site in Sanand, where residents also protested. After a favorable court ruling, Tata started construction anyway.
In July 2009, Tata started delivering the car, and within a year sales reached 9,000 a month. Then they started falling, reaching a low of 509 last November. "We didn't do enough to market the car," admits Tata.
Tata responded by hiring more salespeople at dealerships, working with banks to help buyers take out loans, and more than doubling Nano's warranty to four years or 36,000 miles. After several cars caught fire, it decided to beef up the exhaust system with a heat shield and add a fuse to the electrical system. Sales to dealers began recovering and reached 8,707 in March.
Tata's engineers showed me some of their cost-saving tricks. They used three lug nuts instead of four to hold each wheel to its axle. Components multitask, so the horizontal brace holding the front seats to the floor also serves as side-impact protection. There is no radio and no airbags, and only one windshield wiper. Air conditioning is an option. Where packaging and convenience conflict, packaging wins. The tiny engine is stowed beneath the back seat and is accessible only after six wing nuts are unscrewed.
I drove the Nano on the short test track at Pune. The Nano weighs just 1,320 pounds, about half as much as a compact car, but the two--cylinder, 35-horsepower engine is overmatched; acceleration with a full load can best be described as "leisurely." That's not a problem in Mumbai's congested streets, but it's potentially suicidal on a modern expressway. Still, the Nano ran, steered, cornered, and stopped without much fuss, and its mileage is rated at 50 per gallon.
Tata has his eye on the U.S. market for "a more potent vehicle" that could sell for $7,000 to $8,000 with a bigger engine, a wider stance, and better crash protection. "If you have a vision, you can come pretty close to doing it, even if everybody tells you it can't be done," he told me. Despite its troubled birth, the Nano is evidence that he can deliver on his promises.