Dollar hits 15-month low against euro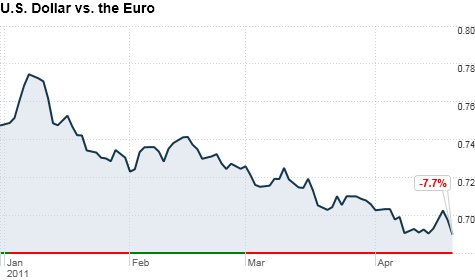 NEW YORK (CNNMoney) -- The dollar took a beating Wednesday, losing ground to a range of currencies, and falling to its lowest level against the euro in 15 months.
And that's pretty much been the trend in recent months. At the start of the year, the euro was trading at $1.33 against the dollar, but has since surged to $1.45 against the beleaguered greenback.
The dollar index, which measures the U.S. dollar against a basket of currencies, has fallen 5% so far this year to around 74, as jittery investors flocked to the dollar for safety. That's down from a high near 87 in June of 2009.
The continued weakening of the dollar -- if you go by reputation -- is a little puzzling. The dollar is thought of as a safe haven asset in times of turmoil. If you look at the past four months, it's hard to find anything but unsettling events. Japan. Egypt. Libya. Eurozone debt.
But the dollar has failed to appreciate.
One reason the dollar is suffering is the continued strength of equity markets. On Wednesday, the Dow was up triple digits, as investors flocked to riskier investments.
Plus, you've got the expansive monetary policy of the Fed, which some experts say weakens the dollar, and a dysfunctional U.S. political system that has put investors on edge.
Still, investors might want to hold off on hitting the panic button. The dollar remains about 8% above its all-time low against the euro set in July 2008. But more trouble might be ahead.
On Monday, Standard & Poor's turned pessimistic about the chances of a near-term resolution of the deficit problems. Gold and Silver (safe haven assets) shot up. The dollar languished.
Win Thin, global head of emerging-market strategy at Brown Brothers Harriman, said currency traders aren't particularly worried about the S&P warning. At least not yet.
He said there is little hope for a debt reduction deal before 2013, something that S&P seems to suggest as well.
"We get a bit of a pass for now," Thin said. But if politicians continue to drag their feet, and S&P actually downgrades U.S. debt, that's when the bottom will fall out for the dollar.
"If the U.S. loses its AAA rating, all the metrics go away," he said.