Stocks surge on tech results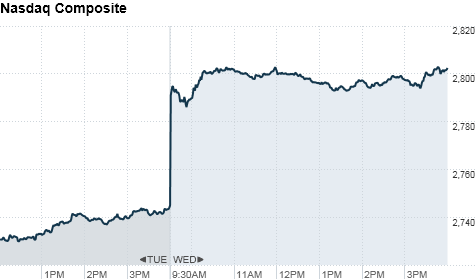 NEW YORK (CNNMoney) -- Stocks surged higher on Wednesday, with the Dow rising nearly 200 points and the Nasdaq rising 2%, as Wall Street rallied behind solid earnings results out of the technology sector.
The Dow Jones industrial average (INDU) added 187 points, or 1.5%, to close at 12,454. The blue-chip measure closed at its highest level since June 2008.
The S&P 500 (SPX) added 18 points, or 1.4%, to 1,330; and the technology-heavy Nasdaq Composite (COMP) rose 58 points, or 2.1%, to 2,803. It was the best single-day performance for the Nasdaq this year.
Wednesday's rally was all about tech earnings, with Intel, Yahoo and IBM all reporting solid results after the close on Tuesday.
Intel (INTC, Fortune 500) shares rose nearly 8%, making it among the best performers on the Nasdaq, S&P 500 and Dow. Yahoo (YHOO, Fortune 500) shares rose 4.7%, while IBM (IBM, Fortune 500) shares edged down 0.4%.
"I was pretty amazed by Intel's results in particular," said Daniel Morgan, portfolio manager with Synovus Trust Co., who follows technology closely. "Yes the economy continues to struggle, but tech is holding its own."
Also bolstering the tech sector was software developer VMWare (VMW), which jumped 14% a day after reporting strong earnings.
A positive housing report added more fuel to the rally. The National Association of Realtors said existing home sales rose 3.7% in March, better than what economists had expected.
Stocks ended higher Tuesday, as investors focused on a pair of stronger-than-expected housing reports and the latest round of corporate earnings.
U.S. markets had a shaky start to the week after Standard and Poor's slashed its outlook on U.S. debt to negative. That move sparked a sharp sell-off, but market participants say that also provided a buying opportunity.
"Even with losses caused by the S&P comments on Monday, we made back those losses and more," said Michael James, senior equity trader at Wedbush Morgan Securities.
Companies: United Technologies (UTX, Fortune 500) reported a profit of $1.11 per share Wednesday, up 19% from a year earlier. The aerospace and machinery maker's stock jumped 4%, making it the second-best performer on the Dow after Intel.
Wells Fargo reported quarterly net income of $3.8 billion, up 48% from a year earlier. But Wells Fargo's (WFC, Fortune 500) stock dipped 4% as investors wondered when the troubled banking sector is going to get back on track.
"Markets are looking at the earnings season in general, and even though the rate of growth isn't as great as last quarter, it's still trending the right way," said Frank Fantozii, president and chief executive of Planned Financial Services in Cleveland.
Apple (AAPL, Fortune 500) shares rose 2.5% in after-market trading after Apple's earnings came in at $6.40 a share, well ahead of the $5.35 analysts had expected. However, the company gave lighter-than-expected guidance for its third quarter.
International power company AES (AES, Fortune 500) announced that it will buy DPL (DPL), the parent company of Dayton Power & Light Company, for $4.7 billion. Shares of AES rose 3%, while Dayton Power's stock jumped 9%.
Shares of American Express (AXP, Fortune 500) fell 2% in after-market trading despite the company reporting better-than-expected earnings and sales for its first quarter.
Currencies and commodities: The dollar fell against the euro and the British pound but gained versus the Japanese yen. The dollar hit a 15-month low against the dollar.
Oil for June delivery settled up $3.17 to $111.45 a barrel.
Gold futures for June delivery settled up $3.80 at $1,498.90 an ounce after breaching a new intraday trading high of $1,506.20 earlier in the morning.
Bonds: The price on the benchmark 10-year U.S. Treasury fell, pushing the yield up to 3.39%. Bond prices and yields move in opposite directions.
World markets: European stocks rallied Wednesday. Britain's FTSE 100 gained 2.1%, the DAX in Germany added 3%, and France's CAC 40 advanced 2.5%.
Asian markets ended higher. The Shanghai Composite added 0.3%, the Hang Seng advanced 1.6%, and Japan's Nikkei rose 1.8%.