Offshore drilling: Slow comeback after BP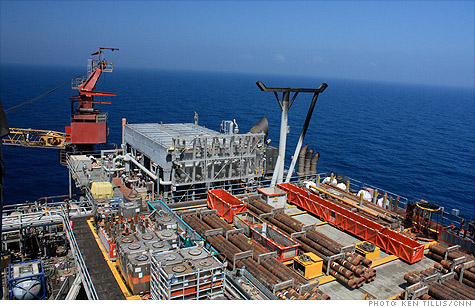 NEW YORK (CNNMoney) -- Oil drilling is returning to the Gulf of Mexico, but slowly.
One year after BP's Macondo well blew out -- claiming 11 lives and sparking a ban on deepwater drilling -- 11 new deepwater and 49 shallow water drilling permits have been issued, according to the federal agency that oversees offshore drilling.
That's far less than usual. But given that most of these new permits have come in the last few months, it's a welcome sign for many in the industry who feared for their livelihoods.
"It's starting to pick up, which is good news for us," said Chris John, president of the Louisiana Mid-Continent Oil and Gas Association.
John said Louisiana, which accounts for most of the Gulf's oil workers, has 320,000 people either directly or indirectly employed in the oil and gas industry.
When the moratorium took effect last summer, many of those jobs were on the line.
Five of the 33 deepwater drill rigs did end up leaving the Gulf. But most workers managed to hang onto their jobs, because the industry redeployed them to focus on maintenance work, John said.
The government had stopped granting permits to drill new oil and gas wells, saying it needed time to reform a regulatory agency that was rife with conflicts of interest and too lax in its oversight.
Those reform efforts are ongoing. So far they have included splitting the agency into two parts to separate the revenue collection division from the enforcement unit, strengthening safety and environmental requirements and hiring more inspectors.
Permits for shallow water wells resumed last summer, albeit it at a slower pace than many in the industry would have liked. The first deepwater permit since the spill was issued in February.
Michael Bromwich, the chief regulator, said on Tuesday that the government waited to start issuing deepwater permits until the industry was equipped to handle another accident.
The Macondo blowout showed that the industry was unprepared to deal with a deepwater accident. The well gushed for months, ultimately spewing some 200 million gallons of oil into the Gulf.
Dealing with a deepwater accident requires capping a well quickly and channeling the oil to the surface -- much like BP's (BP) inverted funnel finally did last summer, nearly three months after the well began to spew. Systems like that have just become available industrywide, Bromwich said, speaking before the Center for Strategic and International Studies.
"Needless to say, it would have been irrational and irresponsible to resume deepwater drilling before viable containment systems were available," Bromwich said.
Environmentalists have been pleased with the pause in drilling and efforts to tighten the regulation, although they say more needs to be done, including greater conservation efforts and measures to move the country away from oil.
And they note that while the drilling of new oil wells was halted last year, oil production from existing wells in the Gulf reached 1.6 million barrels a day -- an all time high.
"Yet the oil industry would have us believe it suffered greatly during the temporary moratorium on new drilling," Peter Lehner, executive director at the Natural Resources Defense council, wrote in a recent blog post.
Ultimately, oil production will suffer only modestly from the moratorium.
According to the U.S. Energy Information Agency, Gulf oil production will drop by 190,000 barrels a day in 2011 and 2012 due to permitting delays and natural field declines.
In total, the country produces just under 10 million barrels of oil a day and consumers use about 19, according to EIA.
Most Americans support increased offshore drilling. According to a recent CNN poll, 69% are in favor of expanding the practice, up from 49% right after the spill.