Apple earnings nearly double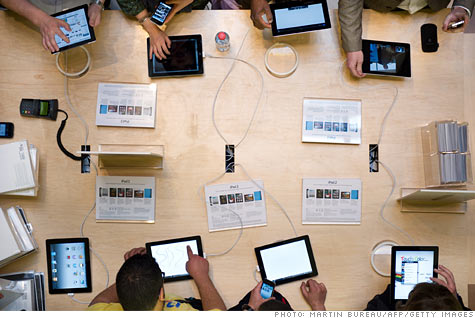 NEW YORK (CNNMoney) -- Apple detractors had a lot to moan about this quarter: iPad 2 sales worries, Japanese supply-chain concerns and the rise of Android. But in the end, Steve Jobs and company shut them down with blowout results.
After the bell Wednesday, Apple posted earnings of $6.40 per share on revenue of $24.67 billion. Analysts polled by Thomson Reuters expected earnings of $5.37 on sales of $23.38 billion.
Sales rose 83% from the same period a year ago, while profits nearly doubled. Apple (AAPL, Fortune 500) shares rose 2.7% in after-hours trading.
That likely surprised critics who had been abuzz about things that might have gone wrong in the quarter. Ahead of the earnings release, many media outlets posted articles iPad 2 concerns that arose from language in a legal complaint that Apple filed against Samsung this week.
"A lot of people's sentiments were negative going into the quarter," said Jeff Fidacaro, senior equity research analyst at Susquehanna Financial Group. "But the numbers came in well above what detractors expected."
iPad: Tablet sales did miss Wall Street expectations. Apple sold 4.69 million iPads during the quarter, while analysts were expecting about 6.3 million.
But on a post-earnings conference call with analysts, Apple chief financial officer Peter Oppenheimer insisted that the iPad issues were due to supply, not demand.
"We sold every iPad 2 we were able to make this quarter," Oppenheimer said.
In the same call, Apple chief operating officer Tim Cook called the iPad 2 supply/demand issue "the mother of all backlogs."
Fidacaro said "it's not uncommon to see that happen" with a hot new product, and "it's bullish to the demand far outstripping supply."
Oppenheimer also said the iPad is generating strong interest from business customers. Around 75% of Fortune 500 companies have deployed or are testing the tablet for their employees, he said.
Brushing off Japan concerns: The second major worry from critics was supply-chain effects of the tsunami in Japan.
On the conference call, Cook said that the crisis didn't disrupt the company's performance in the second quarter.
Apple "does not anticipate any material supply or cost" issues next quarter as a result of the Japan tragedy, he said. But he noted that "the situation is still uncertain, and therefore unpredictable."
How's Steve? An analyst on the conference call noted it was "great" to see Apple CEO Steve Jobs at the iPad 2 launch in March, and he asked about the status of Jobs' medical leave.
Cook said Jobs is still on leave, though "we see him often. And he continues to be involved in major strategic decisions."
iPhones, iPods and Macs: Apple also announced that it sold a record 18.65 million iPhones in the quarter, up 113% from last year. That followed the smartphone's February release on the Verizon (VZ, Fortune 500) Wireless network.
The iPhone figures are especially important to Apple, Fidacaro said, because their profit margins are higher than those of the iPad.
The company sold 3.76 million Mac computers in the quarter, up 32% from a year ago.
But the iPod business continues to slow. Although Apple sold more than 9 million of its music players, that was down 17% from the same period last year.
Outlook: Apple said it expects earnings of $5.03 per share on revenue of $23 billion for the third quarter. The company typically provides a conservative outlook for the current quarter. Analysts are currently expecting earnings of $5.25 a share and sales of $23.8 billion.
Last quarter was Apple's best-ever, with revenue of $26.7 billion driven by holiday iPad and iPhone sales that easily topped forecasts. Apple's $6 billion profit also set a new record.
Apple stock briefly dipped into negative territory for 2011 on Monday, dropping below $322 a share for the first time since December. The stock has recovered since then, closing on Wednesday at about $342.