The trouble with tech stocks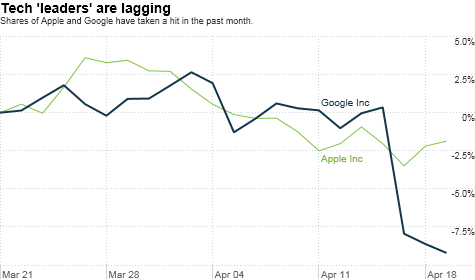 NEW YORK (CNNMoney) -- Sure, it's still early in the first quarter earnings "season." But so far, tech stocks are not living up to their potential.
Google's (GOOG, Fortune 500) earnings missed expectations by a few pennies per share last week, and the stock plunged 8%.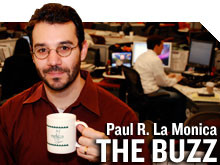 Chip leader Texas Instruments (TXN, Fortune 500) disappointed after the closing bell Monday. Profits were below forecasts as the Japan earthquake took its toll on TI factories there. Guidance for the second quarter wasn't too inspiring either.
And hard drive maker Seagate (STX) reported a bigger-than-expected drop in quarterly profits Tuesday morning. Both stocks fell Tuesday.
There's even a growing sense of ennui about Apple (AAPL, Fortune 500). The iEverything maker is expected to report spectacular results after the bell Wednesday. Analysts are forecasting a more than 60% jump in earnings per share and a nearly 75% increase in sales.
If history is any guide, Apple will probably blow away those estimates by a wide margin. Yet, shares of Apple are down 4% since the start of April.
What gives? As is often the case with tech, the group may be simply suffering from high expectations.
Google, for example, can only be considered a letdown in a relative sense. Net income was up 17% from last year. Sales surged 27%.

"With Google, it's hard to find fault with their revenue growth. It was just expenses ramping up and hurting earnings," said John Lutz, senior research analyst with Frost Investment Advisors in San Antonio. "That might not wind up being the case with many other tech companies."
Lutz said his firm owns stakes in Google, software giant Oracle and wireless chip leader Qualcomm.

So let's not start playing a funeral dirge for Google -- or the entire sector -- just yet.
According to data from FactSet Research, analysts are expecting year-over-year revenue growth of 12% for the tech sector in the first quarter. The only two sectors that are predicted to post higher growth rates are energy and materials.
Investors got a better sense of how tech did in the first quarter (and more importantly how it may perform for the rest of the year) when a trio of top techs reported after the bell Tuesday.
Dow components Intel and IBM (IBM, Fortune 500) released their results, as did struggling online media firm Yahoo.
Yahoo (YHOO, Fortune 500), a company that has confounded investors by somehow remaining a turnaround story for more than five years, reported yet another drop in sales and profits from a year ago. But the stock rose after hours as sales guidance was in line with forecasts.
But Intel (INTC, Fortune 500), despite concerns about sluggish demand for personal computers as tablets eat into PC sales, reported profits and sales that topped forecasts. The chip leader also issued a healthy sales outlook for the second quarter.
Big Blue, thanks to a weak dollar and a diversified mix of tech businesses, reported solid sales and earnings gains. It also lifted guidance for 2011.
So despite some hiccups, tech earnings are still likely to be fairly strong. Investors should also not lose sight of the fact that merger activity in tech has picked up, and that this trend is likely to continue.
In just the past few weeks, TI announced it was buying chip rival National Semiconductor (NSM) while eBay (EBAY, Fortune 500) agreed to scoop up GSI Commerce (GSIC). Both deals were done with hefty takeover premiums.
Finally, most of the larger techs are trading at incredibly reasonable valuations.
Intel trades for less than 10 times 2011 earnings estimates while IBM is valued at only 12.5 times 2011 earnings estimates. Apple and Google both trade at P/E ratios of about 15.
If there's a tech bubble anywhere, it's with private hotshots Facebook and Groupon and smaller public dot-comes like Netflix (NFLX) and OpenTable (OPEN). The megacap techs look like screaming bargains by comparison.
-- The opinions expressed in this commentary are solely those of Paul R. La Monica. Other than Time Warner, the parent of CNNMoney, and Abbott Laboratories, La Monica does not own positions in any individual stocks.