For-profit colleges fighting back hard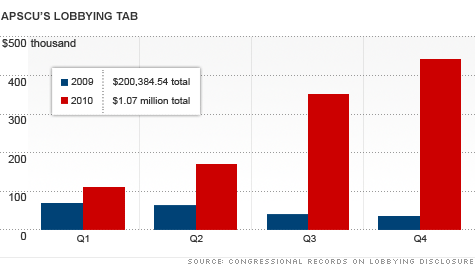 NEW YORK (CNNMoney) -- It's no secret that prominent short-seller Steve Eisman has been outspoken against the for-profit education sector, and he has the ear of lawmakers and the Department of Education.
Eisman, best known as the star in Michael Lewis' The Big Short for his successful early bet against the subprime mortgage industry, has publicly blasted the for-profit education industry over the past year. And he hasn't been shy about his short positions on the stocks of for-profit colleges either.
But the industry is fighting back hard.
"Eisman is a self-serving nutcase who got lucky," said Harris Miller, president and chief executive of the Association of Private Sector Colleges and Universities, which represents over 1,630 for-profit schools. "He's in the business of ruining the reputation of companies so he can make money when their stock prices drop."
Eisman, a principal at hedge fund FrontPoint Partners, said he had no comment.
Eisman's most controversial appearance was at a Senate committee hearing last June, when he warned that students from for-profit schools would default on $275 billion of loans in the next decade without new regulations from the Department of Education.
During the hearing and over the following day, stocks of large for-profit education companies including University of Phoenix operator Apollo Group (APOL), ITT Educational Services (ESI) and Corinthian Colleges (COCO) fell between 2% and 6%, demonstrating Eisman's powerful influence.
APSCU has spent over $1 million in lobbying efforts over the past year in an effort to block rules being proposed by the Department of Education, which Miller said would result in undue consequences for some for-profit college programs and their students.
The most contentious of the proposed rules intends to block federal aid to students enrolled in programs from which graduates accumulate high debt levels, but are left without secure jobs that would help the repay their loans. (See correction below.)
Proponents of for-profit schools agree that saddling students with debt is problematic, but they argue that the Department of Education's proposals aren't the answer.
"The proposed rules will not eliminate bad programs, but instead shut down programs like nursing and culinary arts," Miller said. "Since those programs are more expensive, students need to borrow money to enroll in them, but they also have some of the highest graduation and job placement rates."
Government watchdog groups are also raising eyebrows at Eisman's role in the regulatory debate, considering his hedge fund's investment stake.
Last month, left-leaning Citizens for Responsibility and Ethics in Washington (CREW) and right-wing National Legal and Policy Center, called upon the Securities and Exchange Commission to investigate whether Eisman has been "manipulating the market price" of for-profit education stocks.
The groups' request was based on email threads that suggest close ties between Eisman and top Department of Education officials and efforts by Eisman to influence the outcome of the agency's regulation for the for-profit education industry. The SEC declined to comment.
CREW said it is expecting to receive another 10,000 new emails at the end of the week through a Freedom of Information Act request.
"This is very much a developing story," Anne Weismann, chief counsel at CREW. "The most troubling aspect is the role of hedge funds in this major regulatory effort. We're trying to get our arms around that."
Correction: An earlier version of this article incorrectly reported the length of the June Senate hearing; it also incorrectly described the proposed rule to block aid to certain programs.