Broadcastr lets places tell you their stories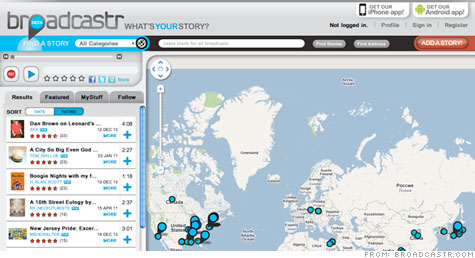 NEW YORK (CNNMoney) -- If the walls could talk, they would tell you stories.
Imagine listening to the tale of a date that went terribly wrong as you walk past the restaurant where it happened. Or strolling through a Brooklyn park and hearing an Irish jig that had been played on that very spot months earlier.
The trees, subways, and streets may not be able to talk, but a location-based service called Broadcastr is giving them a voice. The GPS-powered app allows people to tape stories on their smartphones, then peg their recordings to specific locations on an interactive map.
"You can actually take a walk through a neighborhood and have those stories play back automatically based on where you are," co-founder Scott Lindenbaum says.
His New York-based company aims to give users "a museum tour of the entire world."
Broadcastr launched on the iPhone last month at the South By Southwest festival, and recently rolled out a version for Android. Currently in beta, the service has 40,000 active users and 8,000 recorded stories.
Like many apps in their early stages, Broadcastr's strategy is largely up in the air. Its evolution will be driven by its user community. Early adopters include comedians, filmmakers, food enthusiasts and neighborhood historians. Want to hear about that bad date? It was at Death and Company, an East Village speakeasy.
"I was on an Internet date," the storyteller says in a recording now pinned to Death and Company's address. "She showed me pictures of her cat surrounded by thousands of origami cranes which she folds, and then she puts her cat in a pile and takes pictures."
Documentary filmmaker Andrew Jenks is already a fan. He views Broadcastr as both a discovery tool and a way to record some of the stories that may otherwise slip through the cracks.
"A lot of filmmakers have a research team -- that team is responsible to go out and try and find people telling their stories," says Jenks, whose current projects include an MTV series. "Something like Broadcastr is unique in the sense that those stories kind of come to you. You're almost able to with your mouse visit places around the world and hear these stories and get voices that you wouldn't normally be exposed to."
The money plan
Broadcastr has attracted a small round of funding from early investors, and is in the process of raising more cash. The app is free right now, but Lindenbaum thinks there's a business model in it.
He hopes to eventually roll out a premium version with exclusive content. For example, one of the site's featured users is Fodor's travel blog. A paid version of Broadcastr could offer full access to Fodor tips, turning the app into a multimedia version of Yelp.
Lindenbaum also hopes to allow local businesses to develop targeted ads based on what viewers are listening to and where they are.
But making money is still a ways off. First, Broadcastr has to find an audience. Lindenbaum's vision is for users to be able to go anywhere in the world and hear on-the-ground voices.
"That's going to be very important in the mobile age," he says.