New home sales hover near all-time low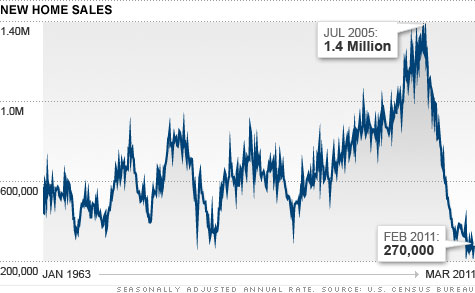 NEW YORK (CNNMoney) -- New home sales started to creep back up in March, according to government figures released Monday, but the housing market is still far from a recovery.
The Census Bureau reported an annual sales rate of 300,000 new homes in March. While that was an 11% increase from February's all-time low of 270,000, new home sales remained near the lowest levels recorded since the government started tracking the data in 1963.
Compared to March of last year, the annual rate was down a staggering 21.9%.
Still though, the monthly gain was a bit better than expected. Economists surveyed by Briefing.com had forecast a sales rate of 280,000 in March.
"It's a decent start to the spring selling season, but we're coming off all-time lows here, so we're not going to get too excited," said Brett Ryan, economist with Deutsche Bank Securities.
After enduring the burst of the housing bubble, homebuilders are still sitting on land and cautious to bulk up their inventory of new homes, Ryan said. Foreclosed homes continue to flood the market and compete with new homes on the market.
"The overhang of foreclosures drags on new home sales," Ryan said. "Builders are waiting for a clearing process to take place."
The report comes on the heels of slightly encouraging reports on existing home sales and new home construction and permits last week. Economists cautioned that one decent month of data doesn't mean the housing market has turned around.
Even though both home prices and mortgage rates are at attractive lows, demand for mortgages remains weak.
Tuesday will bring the latest S&P/Case-Shiller home price index. Economists are expecting the report to show home prices fell 3.2% year-over-year in March.
Home prices are already hovering near their April 2009 lows, sparking fears that the housing market could be in for a double-dip decline.
Economists at Barclays Capital predict home prices could fall another 2% through the end of the year, as foreclosures continue to weigh on the market. But at the same time, they expect home sales to slowly improve.
"We're expecting a very gradual rebound in the housing market, related to ongoing, gradual improvement in the job market," said Michael Gapen, senior U.S. economist with Barclays Capital. "But I stress it's gradual. There's still a long tunnel in front of us."