A $23,000 plane ticket to London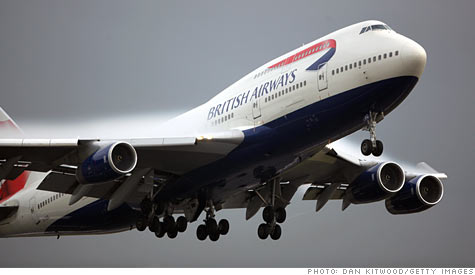 NEW YORK (CNNMoney) -- Airfares to England next weekend are sky high, but that doesn't seem to deter many tourists eager to get there in time for the Royal Wedding.
More than 600,000 tourists are planning to visit London during the last weekend of April this year, according to Lisa Kearns, a spokeswoman for VisitBritain.
British Airways, alone, will be carrying more than 250,000 people into London next week ahead of the Royal Wedding celebrations. While there are still seats available from New York and Los Angeles to Heathrow Airport in London, the price is several times the normal rate.
"If someone wants to book now there is availability but since it's so close they will pay a premium," said John Lampl, a spokesman for the airline.
On British Airways, basic round trip fares start at $245, but those cheap seats are long gone. Now the price for a seat in economy is over $800 not including the fuel and taxes surcharge, which tacks on another $500-$600 a ticket bringing to total cost to at least $1,400 per person.
For those that planned ahead, the average cost for a flight to London from the U.S. for the end of April was $947 last month, according to Expedia. For those that waited to purchase tickets until April, however, the price jumped to $1,220 on average.
"If you waited this long, you are facing business type airfares," noted Tom Parsons, travel pricing guru at BestFares.com.
And if you fancy a first class seat, prices start at $18,204 from New York and $22,512 from Los Angeles, not including the fees. Total cost: About $19,000-$23,000.
Of course that includes a fully flat bed with a 400-thread Egyptian cotton duvet and some "special catering" to commemorate the wedding of the century, like champagne, cupcakes and chocolate, according to Lampl.
"The prices are high because the airlines are trying to cash in," said Ike Anand, director of airline strategy for Expedia. And, "it's not just limited to the airlines," he said. "If you were to look for a hotel too you would see very high prices."
"You'll be paying 5 star hotel rates for a 2 star hotel," Parsons echoed.
Still, some say it's a small price to pay to share Friday, April 29 with William and Kate. With crowds already swarming the city's center, the event is proving a huge draw for tourists from all over.
"It makes sense that people would want to travel to be there along the wedding route to celebrate this special day in history," said Anja Winikka, senior editor of TheKnot.com. "Its also a good excuse for an international vacation, London in springtime is beautiful," she added.