Airline fees: The $500 surprise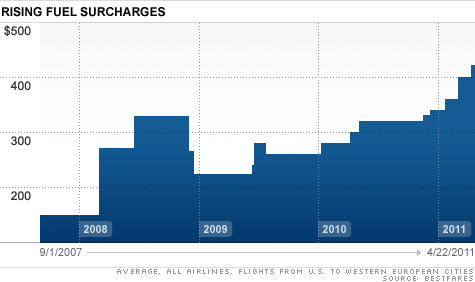 NEW YORK (CNNMoney) -- Thinking of spending a weekend in Paris this spring? Think again.
The cost of travel to Europe has increased exponentially, mostly due to surcharges and fees which can add $500 or more to the price of round-trip airfare.
With the price of oil surging, travelers to Paris and other European cities will pay an extra $420 as a fuel surcharge, according to BestFares.com. Taxes and other fees can add another $100 or more.
For domestic travel, the cost of fuel is often lumped in to the base ticket price, although fuel surcharges are occasionally added on as well. Still, they are much higher on international travel partly because of the long haul.
"Fuel is killing us" said John Lampl, a spokesman for British Airways. "It started spiking really because of the whole Libya speculation," he said, "now we're paying billions each year on fuel. It's gotten so out of whack that we have to pass on some of the fuel surcharge, otherwise we would be suffering tremendous losses."
Despite the Middle East turmoil spooking the oil market, fuel surcharges are hardly new. What's new is how much more expensive they've become.
Airlines began adding fuel surcharges on international routes five years ago, when oil prices started spiking. When oil hit a record high of $147 a barrel in the summer of 2008, fuel surcharges were about $330 on each roundtrip fare.
Even though oil prices have fallen nearly $40 a barrel from that record, airlines have hiked fuel surcharges by more than 25% since then.
That's because many airlines' desperate financial straits have forced them to adopt a riskier way to buy fuel and they are more vulnerable than ever to the daily price increases.
Many carriers don't have the cash on hand to buy multi-year "futures" contracts that lock-in the price of oil for a long period of time, as they did in previous years. Now airlines are forced to buy their oil for immediate delivery or delivery in the very near future on the volatile spot market. Prices at this market fluctuate wildly because they track the daily changes at oil futures markets around the world.
"When the barrel prices start escalating as they have been recently, we tack on higher fuel surcharges," Lampl explained. "It's based on what we're paying for fuel and now our fuel bill is in excess of $14.86 million a day."
Fuel is probably the number one headache the major airlines have," said Tom Parsons, travel pricing guru at BestFares.com. "It's the one expense they can't control and when fuel goes up, it erodes their profits very quickly and this year the airlines are really getting smacked."
Now when travelers search for flights abroad, "taxes and fees are more than the fare," noted Rick Seaney, CEO of Farecompare.com -- and they keep rising.
Despite surging prices, revenue was up 13% across the industry last month compared to the year earlier, marking the 15th straight increase.
"However, the revenue growth has not been sufficient to keep pace with higher jet fuel costs, which have risen more than 30% from a year ago," said Air Transport Association of America's chief economist, John Heimlich.
The airlines could lose as much as $1 billion in the first quarter of 2011 because of the higher fuel costs, added Steve Lott, a spokesman for the trade group.
When airlines take a hit, so do consumers, since much of that cost is passed along, said Ray Neidl, a Calyon Securities senior aerospace specialist.
So far these extra charges haven't hurt passenger traffic. In fact, it rose 1% in March even though the average price to fly one mile rose 12% that month, according to the Air Transport Association.
Although some marginal customers have been deterred by sky high airfares, carriers "are still able to maintain most of the high-yield business travelers which is where they make most of their money," Neidl said.
"[Fees] won't go down until traffic dries up," he said, and that's very unlikely to happen as the high summer travel kicks in.